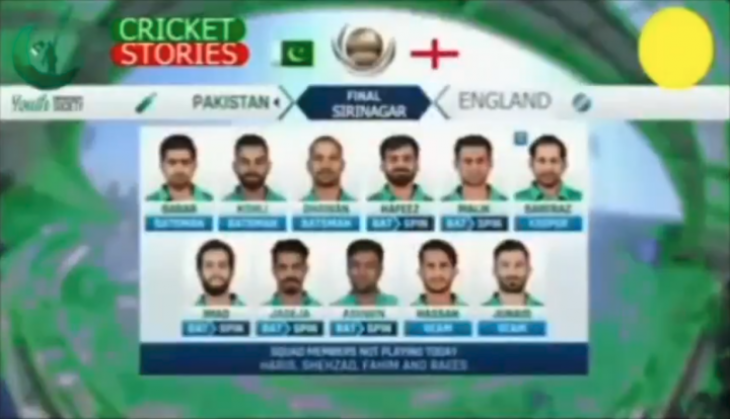 Pakistan ODI playing XI in the video
A video has surfaced in Pakistan where Indian skipper Virat Kohli and Shikhar Dhawan can be seen playing for the Men in Green in Srinagar stadium in the period of 2025. According to the video, two nuclear-armed neighbours go to war and Pakistan wins it and take over India as their own territory.
As a result of Pakistan's imaginary victory, Virat Kohli becomes a member of the Pakistan cricket team along with Shikhar Dhawan. The video begins with a scene of 2025 T20 World Cup which is being played at Srinagar Cricket stadium. The commentators announce that the match is between Pakistan and England and the two legendary batsmen Babar Azam and Virat Kohli opening the batting.
Watching the match at her home, a girl tells her father, "Dekhna aaj toh Virat Kohli hi match jeetwayega (Virat Kohli will win us this match today, you will see)." To this, her father replied: "Virat Kohli na pehle India ki team mein hota tha (Virat Kohli used to be in Indian team)." To which the children present reply with a surprised look: "Kaun India? (Who is India?)" The man then replies with a conceited smile.
Pakistan cricket team playing in Srinagar, Virat Kohli playing for Pakistan. Just some regular delusions, nothing else. pic.twitter.com/swBnUp3ShM

— Naila Inayat नायला इनायत (@nailainayat) September 4, 2019
Pakistan was part of India but later became independent after partition on August 14, 1947. Pakistan had a part named 'East Pakistan' until 1971, which has now become Bangladesh.
Virat Kohli is yet to play a cricket match in Pakistan and has not played a single Test match against the neighbours in his 11-year long career.
Also read: Steve Smith is better than Virat Kohli in Tests, says Shane Warne