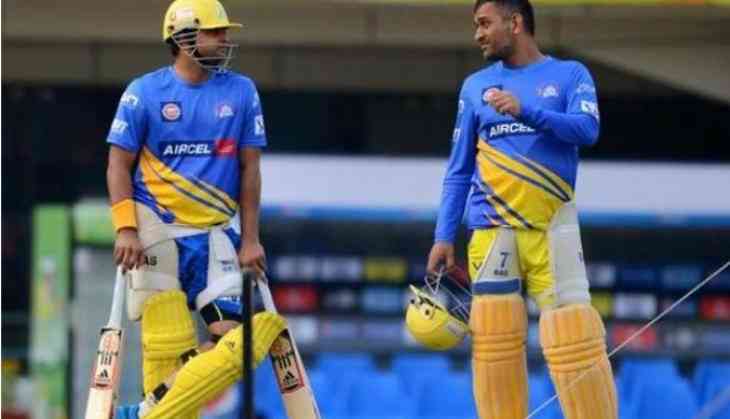 Suresh Raina reveals the way Dhoni gets angry on field
Whenever it comes to Team India's finest fielders, then we cannot forget the name of Indian batsman Suresh Raina. Due to not clearing the yo-yo fitness test, the Uttar Pradesh player is currently out of the team, but the fans are expecting for Rain's comeback.
Raina fervently admired Dhoni's leadership in the show. He said, "He is a good game leader. He know what is going to happen next. He always have 3 plans - Plan A, Plan B and Plan C ready with him. He always carry these plans with him. He make plans a night before the match and use them according to the situation. That's why he remains so cool."
"His eyes don't show any emotion. Despite not wearing sunglasses, you cannot tell (about his emotions). We will be like 'come on, man. show us some reaction'," said Raina.
He is currently busy in the Ranji Trophy. But in a talk show Breakfast with Champions he has revealed a great deal about former captain Mahendra Singh Dhoni.
"But he does get angry, you don't see it. The cameras don't pick it up. But as soon as the telecast cuts to the ads, he will say 'Better get your act together'," added the southpaw.
During the show, in a chat with TV presenter Gaurav Kapur, Raina said that MS Dhoni does not remain cool all the time. He often gets annoyed on the field but do not let others to notice it.
"Once in an India vs Pakistan match, Umar Akmal complaint to Dhoni that I was abusing him. When Dhoni asked me what happened, then I said that I was just throwing a few balls and putting pressure on them. Mahi Bhai bole, aur de s**le ko (MS Dhoni asked me to build more pressure on Pakistan)."
Significantly, Dhoni left the captaincy of India in January this year. Under his captaincy, India won the 2007 T20 World Cup, 2011 World Cup and the 2013 ICC Champions Trophy.
"He (Dhoni) is a very good reader of the game. He is hailed as the world's best finisher. He knows what is going to happen next. At any given point, he is ready with three different game plans – A, B and C. When he is batting or keeping or captaining, he is always ready with different plans. He plans overnight, then gets a feel of it in the morning and tries to visualise it. A lot of people don't know this about him. This is why he remains calm: He knows it's his game at the end of the day," said Raina.
"Opposition can't predict his moves. He works hard for it, he visualises it. Even when rotating the strike, sometimes he will step out and nudge a single. That's not his actual game. But he is letting the bowler know that he can take him on," added Raina.
"The spectators in Chennai are very knowledgeable. Whether you win or lose, whoever the player is, they have a different level of appreciation for everyone," said Raina.
Here is the video: