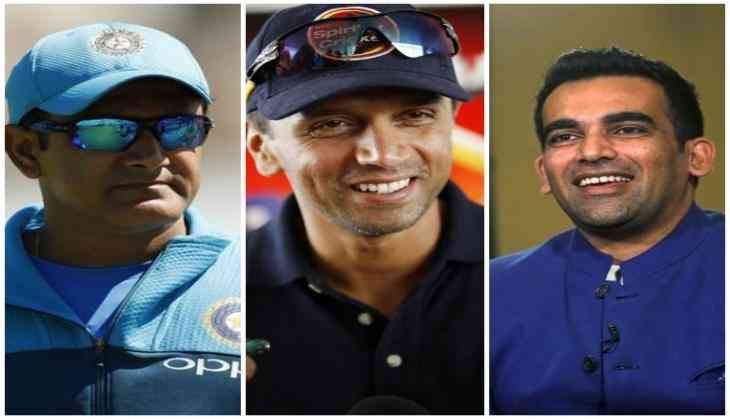 `True greats-Kumble, Dravid, Zaheer don't deserve public humiliation'
Ramachandra Guha, former member of the Board of Control for Cricket in India's (BCCI) Committee of Administrators (CoA), on Sunday lashed out at the cricket board for "public humiliation" of Anil Kumble, Rahul Dravid and Zaheer Khan.
The CoA on Saturday said the Indian cricket team's support staff will be recruited after consultation with newly appointed head coach Ravi Shastri, thus effectively putting on hold Zaheer and Dravid's appointments as bowling coach and overseas batting consultant respectively.
"The shameful treatment of Anil Kumble has now been compounded by the cavalier treatment of Zaheer Khan and Rahul Dravid," said Guha on Twitter.
"Kumble, Dravid and Zaheer were true greats of the game who gave it all on the field. They did not deserve this public humiliation," he added.
https://twitter.com/Ram_Guha/status/886481179955806208
https://twitter.com/Ram_Guha/status/886482798915207168
CoA chief Vinod Rai informed that Shastri will be meeting the four-member committee of the BCCI for the selection of the support staff for Team India.
"We have set up a committee of Diana Edulji, Acting Secretary Amitabh Choudhary, acting president of the board CK Khanna and CEO Rahul Johri as a convener, who will speak to them and Ravi Shastri and make the selection of the other coaches," he said.
The meeting, which comes after the Cricket Advisory Committee (CAC) appointed Zaheer as bowling coach and Dravid as overseas batting coach, has been scheduled for July 18.
However, the CoA chief made it clear that the CAC has just made recommendations over the same.
"There's no such thing as a contract. These are just recommendations. A recommendation has been made and the CoA has to act on that. That recommendation will be acted upon in consultation of the head coach," he said.
This is yet another process after a month-long drama which seemed to have ended with a definitive BCCI release on July 11.
"The BCCI announces the appointment of Mr. Ravi Shastri as the Head Coach, Mr. Zaheer Khan as the Bowling Consultant and Mr. Rahul Dravid who will be the Overseas Batting Consultant (Test cricket) for the Indian Cricket Team," the release which was signed by Secretary Amitabh Choudhary stated.
The head coach position, which was lying vacant since Kumble's resignation following India's 180-run defeat against arch-rivals Pakistan in the Champions Trophy final, was filled up by Shastri on July 1.
Kumble, while stepping down, had informed that skipper Virat Kohli had reservations about his work 'style' and his extension as the head coach, which prompted him to resign.
Kumble said that although the BCCI had, several times, attempted to resolve the misunderstandings between him and the captain, it was apparent that the partnership was "untenable", and therefore, he had decided to move on.
-ANI