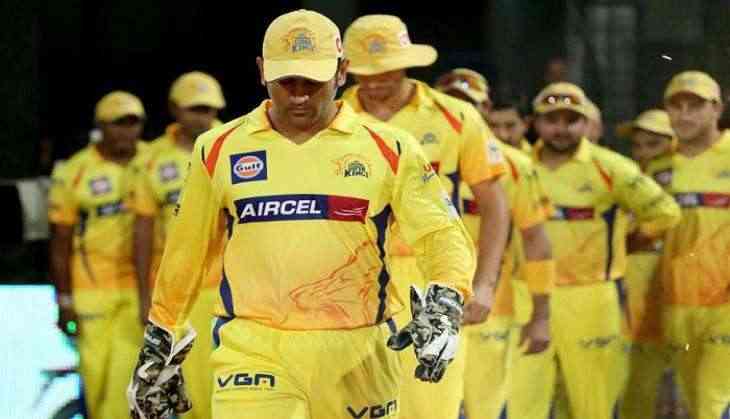 As the two year suspension imposed by the Supreme Court on a franchise cricket team, Chennai Super Kings has ended, the CSK fans took on micro blogging site Twitter and expressed their excitement in their own way.
The apex court had imposed the penalty of two-year suspension on CSK from playing in IPL in 2015. The penalty ended on 13 July and the management of the team is back in action.
Meanwhile, K George John, one of the directors of CSKCL, while talking to TOI said, "If we are given an option of retaining a player, it will definitely be Dhoni,". We haven't yet discussed with Dhoni as his contract with Pune Supergiant ends later this year. However, we will speak to him in the future."
Here is how people welcoming their favorite team in IPL:
#CSKReturns will again shook the other teams when @msdhoni led team in Yellow jersey will play again in up coming @IPL season 11

— Nitin (@nkkl1992) July 14, 2017
Welcome back wish to see more of these 😍😍😍😍 @CSKFansOfficial @ChennaiIPL #CSKReturns #Whistlepodu pic.twitter.com/iqsW3QF3Se

— sudharsanr13 (@sudharsan40233) July 14, 2017
#cskreturns now once again see this magic pic.twitter.com/KeZWCPEE1p

— IYYAPPAN.SS (@SSI048) July 14, 2017
#CSKReturns let's Whistle Louder and Welcome Namma #CSK @ChennaiIPL pic.twitter.com/kfkWdEI00X

— Prabhu 🏏 ‏ (@Cricprabhu) July 14, 2017
14 July 2015, #CSK Suspended.
It's 14 July 2017: #CSKReturns

RT If You're #CSK Fan. #Whistlepodu #MSdhoni #Dhoni pic.twitter.com/T5W5cbFblm

— Sir Ravindra Jadeja (@SirJadeja) July 14, 2017
@ChennaiIPL The wait is over. We back with a bang! Meanwhile all CSK fans: 'Dhoni shud b back in CSK. That's enough!😎'#CSKisBack #CSKreturns

— Manoj Seenivasan (@manojthatsme) July 14, 2017
#CSKReturns, So Does Our Captain Cool Thala #MSDhoni. 🙏🏾#Whistlepodu #CSKisBack #CSK #Dhoni pic.twitter.com/ZvW026nGE5

— Sir Ravindra Jadeja (@SirJadeja) July 14, 2017
#supermoment Fiery🔥 Fielding by @ImRaina in #Qualifier2013 #CSKvsMI#cskreturns 🎉 @ChennaiIPL 💛 @imDhoni_fc @CskOfficialFans @russcsk 💪 pic.twitter.com/46uO43CfY9

— Team Raina Rishab (@ImRainaPant_fc) July 14, 2017
The Real LION Is Back 💪 Thala #MSDhoni 😎 💪 💪 #CSKisBack #cskreturns pic.twitter.com/V5ql8Csb3s

— 🌟ŠÜĐÂŔŚHÄÑ ŘËĎĐŸ🌟 (@sudharshanred14) July 14, 2017
Yesssssss we r always ready🙌💃 for a helicopter ride😎 @msdhoni #Whistlepodu #CSKReturns @ChennaiIPL pic.twitter.com/Rq91wwTj63

— Vidhya #MSDian (@Vidhya_THALA7) July 14, 2017