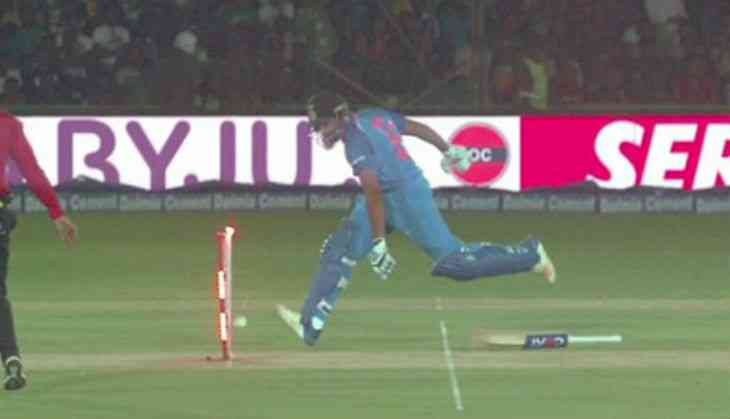 Virat Kohli-led team India thrashed Sri Lanka by 9 wickets in the first ODI match riding on Shikhar Dhawan's stunning century and Kohli's impressive half-century.
While Dhawan (132*) and Kohli (82*) guided India past the victory mark, it was opener Rohit Sharma's hilarious run-out that attracted the attention of Twitter parade most.
Right-handed batsman Sharma was run-out by Chamara Kapugedara in the most bizarre way possible on field. Sharma ran for a run and his bat got stuck to the ground. He was forced to enter the crease without a bat and as the bat slipped from his hand just before crossing the line. Even after putting all efforts, Sharma ji ka beta failed in saving his wickets.
Check out the funniest tweets here:
#RohitSharma needed a grace mark!! 😂 pic.twitter.com/LWu5qFfUpW

— shekhar anand (@sam_diabolic) August 21, 2017
This is not RUN OUT
This is FUN OUT
This is why Rohit Sharma is LEGEND 😀😀 pic.twitter.com/EVBb0bDhh4

— Տo꒸เƚคгყ Տoυ꒸ ♡ (@_rit_wik) August 21, 2017
#GameOfThrones Team; when they think they'll successfully release latest episode but it gets leak. 😂 pic.twitter.com/DQXgBX5kdO

— Moneyश (@iManishWaghela) August 20, 2017
Sharma ji ka beta kisi se piche nahi rehta, apne bat se bhi nahi. pic.twitter.com/9YMEZq7WmN

— Ashutosh Jain (@ashutoshjain25) August 20, 2017
#INDvSL
When you are playing cricket & suddenly your dad shouts out at you😂 pic.twitter.com/wUSlchQOtT

— Sagnik Misra (@Sangy_Sagnik) August 20, 2017
When you have reached the office, But forgot to swipe in attendance. 😂😂 pic.twitter.com/JgdAyqod0t

— oPUNner 🇮🇳 (@CA_Dhanesh) August 20, 2017
Me trying to make my ends meet during month end... pic.twitter.com/eFnElNrNGJ

— The-Lying-Lama (@KyaUkhaadLega) August 20, 2017
When you send the email ASAP but forget to add the attachment. #SLvIND pic.twitter.com/F0OFlnLrZC

— SAGAR (@sagarcasm) August 20, 2017