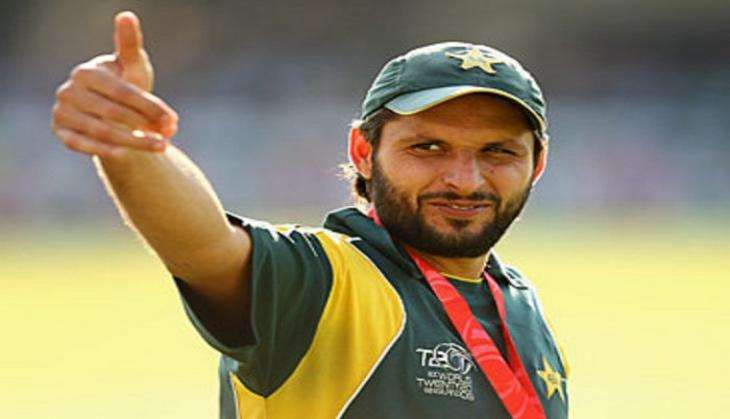 Pakistani all-rounder Shahid Afridi will come out next year with his autobiography in which he opens up about his "rivalries and alliances", particularly those with India, as well as his infatuation with the military and his take on politics.
"Shahid Afridi: An Autobiography", written with journalist Wajahat S Khan, is an account of one of modern-day cricket's most controversial and high-achieving practitioners, who in 1996, as a 16-year-old, hammered a record-breaking 37-ball century.
Afridi also holds the distinction of having hit the most number of sixes in the history of ODI cricket and most wickets (97) and most player-of-the match awards in T20 Internationals.
HarperCollins India has acquired world rights to the autobiography which will be released in 2017. The publisher has dubbed the book as "big-hitting and no holds barred".
Says Afridi about his book, "In all my years of cricket, I've given hundreds of interviews and done dozens of TV shows, but what you will read in my memoir are the stories and thoughts I've never shared openly. I have a lot to say: about my confidence, my fears, my adversaries, my ambitions, my goals and failures.
"In the book, I've opened up about my rivalries and my alliances, particularly those with India, as well as my infatuation with the military and my take on politics. It was a tall order to get myself ready to do this, but I'm proud to join hands with a fine storyteller and journalist like Wajahat bhai. I'm also thankful to my publishers for giving me the space to be myself."
"He may be the most in-your-face cricketer Pakistan - or even South Asia - has ever produced, but Afridi isn't an open-and-shut case to study. Interviewing and working with one of the greatest - and most complicated - cricketing icons wasn't just exciting, it was also quite scary," Wajahat Khan said about his association with the book.