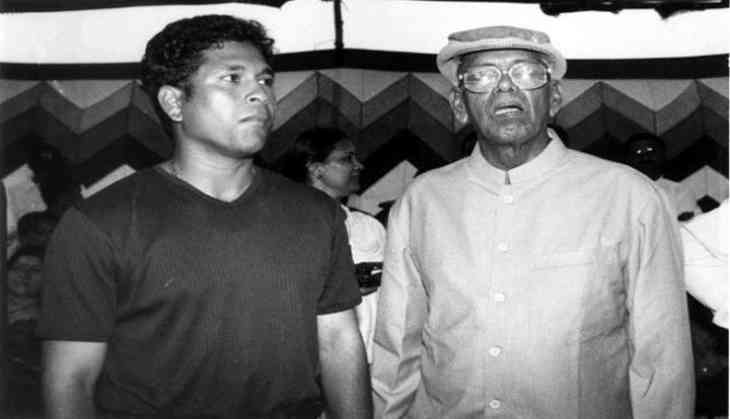 Master blaster Sachin Tendulkar on Thursday paid tribute to his late coach Ramakant Achrekar at the Shivaji Park Gymkhana.
Shivaji Park is the same place where the late coach gave training to Tendulkar right from his childhood days. The cricketer was accompanied by Nationalist Congress Party (NCP) chief Sharad Pawar who also paid tribute to Achrekar.
Tendulkar's childhood coach passed away at the age of 87 on January 2. The Dronacharya awardee had blessed the Indian cricket with the likes of Tendulkar and Vinod Kambli.
Regarded as one of the greatest batsmen of all time, Tendulkar holds the record of being the highest run scorer of all time in the international cricket, having notched up 18,426 runs in ODI and 15,921 runs in Test matches.
Last year on Guru Purnima, the master blaster along with Atul Ranade went to meet and pay their respects to their guru, Achrekar.
"Today, #GuruPurnima, is the day we remember those who have taught us to be better versions of ourselves. Achrekar Sir, I couldn't have done all this without you. Don't forget to thank your gurus and take their blessings. #AtulRanade and I just did," Tendulkar had tweeted.
In the same year, the master blaster posted a video on Twitter as a tribute to his Coach on Teacher's Day.
"Back in my school days, I used to play only for the junior team and our senior team was playing the Harris Shield finals at the Wankhede Stadium," Tendulkar said.
"And our coach Ramakant Achrekar Sir had organised a practice match for me. He had told me to go there after school and bat at number four. He said he had spoken to the captain and you would not need to field. That used to be my training. That was important because you needed to figure out your game there and figure out how to score runs in the middle," he had added.
-ANI