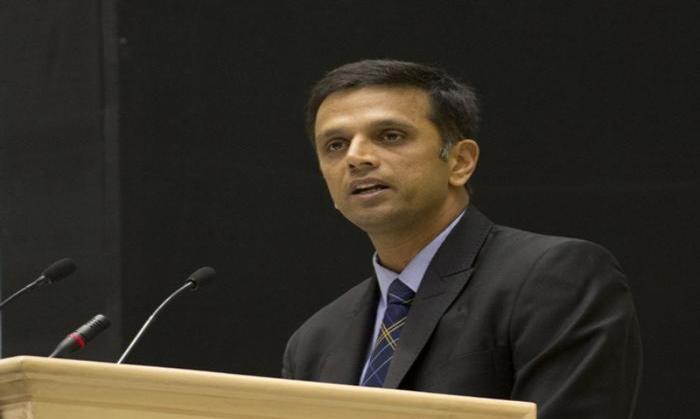 Former captain Rahul Dravid, on Wednesday, 6 April, made it clear that any decision on taking up coach's role with the senior Indian team will depend on whether he has the time and "bandwidth" for the high-profile job.
With Ravi Shastri's contract as Team Director coming to an end after the completion of ICC World T20, Dravid's name has been doing rounds for the job but he did not give any conclusive reply.
"Any decision that I make at this stage of my life would depend on whether I have the bandwidth to do all of these things," Dravid said during an interaction when asked specifically whether he is ready to take up the chief coach's role in the senior India team.
The 43-year-old is currently India A and U-19 coach apart from being a 'Mentor' with Delhi Daredevils.
"It takes time. You can never really say that now you are ready and now you are not. That's an experience, a learning. You have to do it to only know. Everyday you do it and you want to learn."
He did say that any decision he takes will be after a lot of consideration.
"Anything that comes back to you needs to be weighed with lot of consideration, not only in terms of whether you feel you want to do it but also time that is involved in doing lot of these things --- what does it entail and what does it require, can you devote time and energy, anything that you would want to do, you want to ensure you are completely 100 percent focussed on it."
"It's not important whether results come or not but can you give that level of commitment and level of time for doing anything like that (coaching India). Just like in cricket, I mean if I wanted to be really good batsman, I recognised that time, sacrifices and devotion whatever required to get it done and what sacrifices I had to make for it.
Coaching to him is a process where one learns something new everyday.
"I am quite young in this kind of space. There were a lot of things I didn't think as a player. As a captain, I had to think about strategy and things like that but not to the depth of what you need to do as a coach. Your mind and energy are diverted to other things, so you think a lot about things that I didn't think as a player. You make mistakes and then I realise how I could have done things differently," said 'The Wall'.
Dravid, in fact, pointed out about his learnings as a coach from U-19 team's defeat against West Indies in the junior World Cup.
"Forget about the result but I was thinking what we could have done differently. We got beaten by a team that bowled 46 overs of fast bowling. Since it was in the sub-continent, we prepared as we thought there could be lot of spin bowling. We prepared on how do you play spin and a team came from the left-field (blind side) and beat you with 46 overs of medium pace. It started at 9 am and ball seamed all around," said Dravid.
-PTI