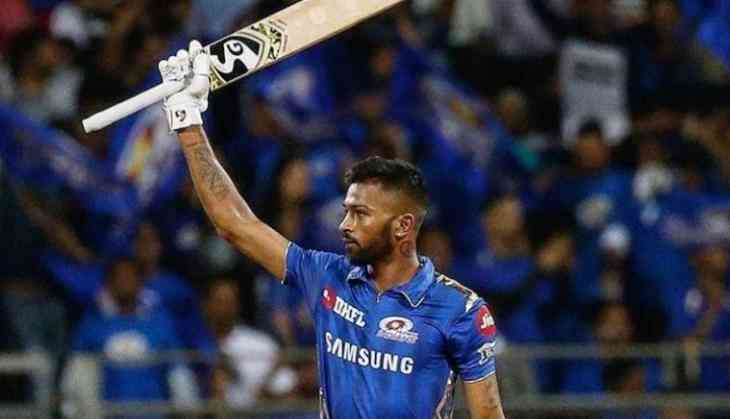 In the whole IPL, the cricket fans have always been appreciated for Andre Russell who always been brutal when it comes to hitting. The way Andre Russell has helped his team to win the matches with his brutal hitting is really amazing. Even in yesterday's match, Andre Russell hit 80 runs in just 40 balls with the strike rate of 200. The audience was in all awe of Andre Russell until Mumbai Indians' all-rounder Hardik Pandya came to bat.
While doing first batting Kolkata Knight Riders set the target of 234 runs to Mumbai Indians and it was looking so impossible. Even the start of Mumbai Indians was not up to the mark and they lose early wickets as well. Then came Hardik Pandya, who just entered the ground with the aim of sending all the balls to out of the ground. Hardik played amazing hard hitting innings of 91 runs on just 34 balls. Hardik Pandya was so brutal that he made 91 runs with the strike rate of 267.65.
This inning of Pandya actually mesmerized the Indian cricket fans and even the ex-cricketers those are all praise for the cricketers. Even the ex-cricketer Sanjay Manjrekar has called Hardik Pandya 'Indian Andre Rusell with no muscle'. The twitter is all praise for the amazing player and they all want him to continue his performance in World Cup 2019 as well.
So Hardik Pandya is basically Andre Russell without the muscle.#KingsOfSixes

— Sanjay Manjrekar (@sanjaymanjrekar) April 28, 2019
One of the innings of the #IPL. 91(34). 9x6, 6x4. There was a distant whiff while he was in #HardikPandya https://t.co/IzsxIekHDp

— Harsha Bhogle (@bhogleharsha) April 28, 2019
If you aren't watching #IPL2019 this evening, you just missed probably the most stupendous innings by an Indian. 91 in 34 by Hardik Pandya. Incredible talent. Now hope he carries it to England for World Cup..

— Shekhar Gupta (@ShekharGupta) April 28, 2019
If you are Studying a School
I am the #HeadMaster of the school#Hardik #MumbaiIndians #KKRvMI @mipaltan Hardik pandya pic.twitter.com/XScWpQBviT

— 🇮🇳Sachin Rajavel🇮🇳 (@RP_Rajavel) April 28, 2019
#KKRvMI
Hardik pandya after today's match : pic.twitter.com/k2pr6gpWVR

— Sohail Akhtar (@SohailA16671752) April 28, 2019
Hardik Pandya to Russell

If you are bad.........

I am your Dad...........#KKRvMI pic.twitter.com/DnWkHcWmHS

— HILL DHAMELIYA (@HillDhameliya) April 28, 2019
😱 #KungFuPandya last night 👇

91 (34) 🔥
9 sixes 💥
6 fours 💣
SR: 267.65 🤯#OneFamily #CricketMeriJaan #MumbaiIndians #KKRvMI @hardikpandya7 pic.twitter.com/eLJR4bDFm0

— Mumbai Indians (@mipaltan) April 29, 2019
I need a boyfriend like Hardik Pandya! What an innings last night. Unbelievable. I'm stunned. #KKRvMI

— Bhawana (@bhawnakohli5) April 29, 2019
#HardikPandya - An entire nation's Hope 🇮🇳❤️ #MI #KKRvMI pic.twitter.com/BVKkX5nmXA

— Troll Cinema ( TC ) (@Troll_Cinema) April 28, 2019
He is Not a Overseas player, He is our Indian monster @hardikpandya7 #monsterpandya #hardikpandya pic.twitter.com/8CARkdDfOi

— Avinasan (@Avinasan1) April 28, 2019
While, in between the praise, Hardik Pandya surely is taking a breath of relief as he was targetted a lot for his sexist comments on Koffee With Karan. Even some of them also asked a ban on the cricketer but BCCI after banning him for series get back to the team.