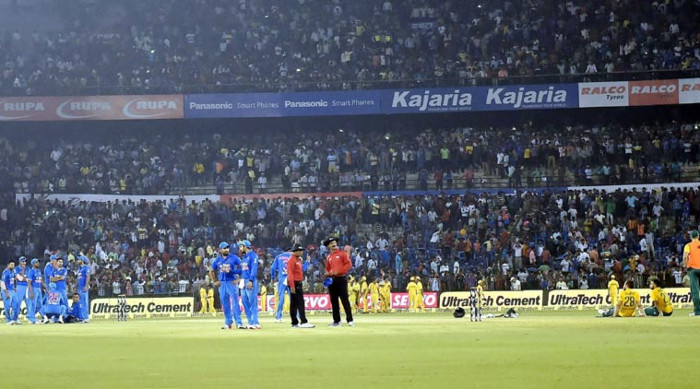 India's limited overs skipper Mahendra Singh Dhoni sought to down play the boorish crowd behaviour, where he termed throwing of bottles as "not so serious" and "done just for fun", even though legendary Sunil Gavaskar blasted the authorities demanding strict punishment.
"We should not be taking such things seriously. I still remember we played in Vizag once and we won the game very easily and that time also a lot of bottles were thrown. It starts with the first bottle and then its more of a fun for the spectators."
The skipper however said the players' security was never compromised.
"When it comes to the safety of the players, I don't think there was any serious threat. A few of the powerful people in the crowd were throwing the bottles into the ground and the umpires felt it was safe to stay in the centre or go off the ground.
"We didn't play well and at times you get reaction like these. It's only the first few bottles that are hurled with serious intent, after that they just do it for fun."
South African T20I skipper du Plessis on the other hand condemned the incident and hoped there's not a repeat in their long 72-day tour of India which also includes five ODIs and four Tests.
"It's not nice to see it. I have played 5-6 years of cricket in India, and I have never seen that. So, you don't want that to be a part of the game. You come here to compete, and the best team walks away winning.
"To have that happening, I don't think it's a good thing. It should not happen. Even the way the game was played towards the end, it lost its intensity because obviously India thought that we have already won as we needed only 20 runs. Disappointing in that sense, and hopefully it is the first and the last time we see it on this tour."
Asked whether it's limited to sub-continents only, Du Plessis said: "It is a difficult question to answer. All around the world you get people who get really passionate about their team. Sometimes you cross that boundary you shouldn't.
"This is the first time I have experienced in India, so I can't say it happens a lot. But as you said, it happens a lot in the sub-continental conditions. That's definitely to do with the passion that fans have. But, its surely not something we as players want to be a part of the game.
"Obviously, player security is very important wherever we go across the world. Let's just hope that it's a bad day at the office."
Former Indian captain Gavaskar had earlier blasted the Odisha police and advocated that Cuttack should not be given an international for the next couple of years.
-PTI