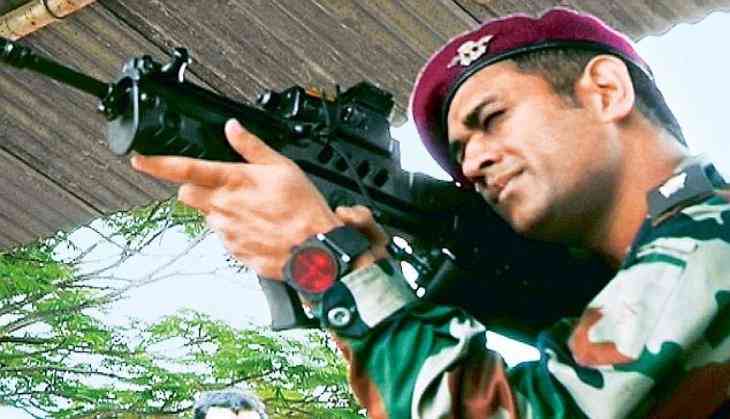 India's World Cup winning skipper MS Dhoni is all set to commence his patrolling duties in Jammu and Kashmir from today. MS Dhoni will be working as an honorary colonel, the Indian Army has said.
After India's early exit from the ICC World Cup 2019, MS Dhoni made himself unavailable for the West Indies tour. The 38 year old made it clear to the BCCI that he wouldn't be available for two months as he would train with the Indian Army's Parachute Regiment.
MS Dhoni who is looked upon as the master tactician on the field for team India is to work with the Territorial Army, his role would be to take some burden off the Army as he would be taking part in static operations and aid civil administration in coping with natural disasters and maintaining required services in situations where life of the groups gets affected or if the security of the country is under threat and to provide re-enforcement for the Army as and when required.
Dhoni will be serving with the Indian Army's Victor force for 15 days, the victor forces engages in tackling militant groups that operates in the Muslim majority areas of Kashmir.
On July, 25, the Indian Army issued a statemant saying that, "Lieutenant Colonel (Honorary) MS Dhoni is proceeding to 106 TA Battalion (Para) for being with the Battalion from 31 Jul-15 Aug 19."
The statemant also said that the unit will be training in the Kashmir valley as sub-division of the Victor Force. "As requested by the officer and approved by Army Headquarters; he will be taking on the duties of patrolling, guard and post duty and would be staying with troops", the statement mentioned.
In 2015, MSD after completing five parachute jumps in Agra was qualified as a paratrooper, an army official stated, he further added that, this operation in Kashmir is part of his training.
Employing sports stars like MS Dhoni, would help the security forces rank up their profile, mainly among youngesters who are integral part of recruits.
AlsoRead:http://www.catchnews.com/cricket-news/prithivi-shaw-fails-dope-test-bcci-suspends-him-for-eight-months-168631.html
http://www.catchnews.com/cricket-news/here-s-what-hasan-ali-has-to-say-about-speculations-of-him-marrying-an-indian-girl-168627.html