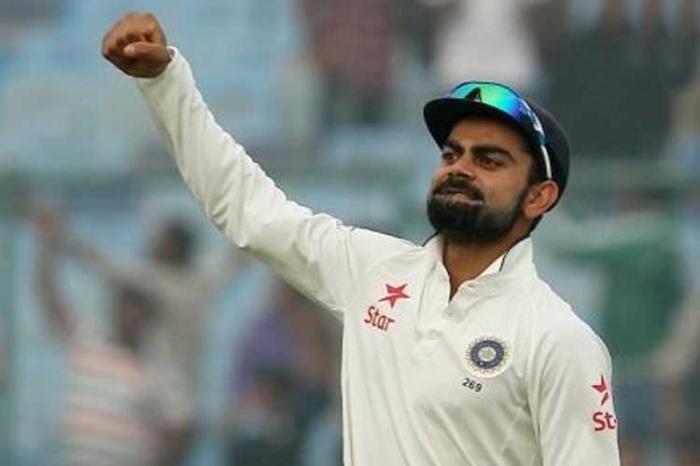 Test captain Virat Kohli has admitted that he was surprised by the ultra-defensive strategy employed by South Africa during their massive 337-run defeat against India at the Feroz Shah Kotla Stadium on Monday.
"We were able to use our part-timers because of the way South Africa were batting. There was no approach where they wanted to score runs. As a captain, it was very easy to set field and put in your part-timers as well and to give rest to the main bowlers. I was pretty surprised by the way they came out and decided to start defending from the very first ball," Kohli told reporters during the post-match conference.
The 27-year-old captain also opined that defeating the number one side in the world was a massive boost for his side and insisted that the team were now reaping the benefits of their hard-fought series in Australia earlier this year.
"It has a very positive and huge impact on the mindset of all the players. It all started in Australia. The kind of belief we went there with, the kind of cricket we played there, it gave us the confidence that we can beat any side in the world anywhere. We turned things around in Sri Lanka and that was a major boost for our mental set up and confidence. But this is may be the icing on the cake so far to beat the number one Test side 3-nil. It is obviously an achievement we can all be proud of. Everyone is contributing which is the essence of the team," an ecstatic Kohli added.
"I was pretty surprised by the way they came out and decided to start defending from the very first ball."
Kohli also heaped praise on his bowlers for producing relentless performances and not losing their patience while facing a stubborn opposition.
"Bowlers were going through a phase where they would be tested, their patience would be tested but they came out with flying colors. At no stage, bowlers panicked. Everyone was at proper intensity throughout the day and that is why we were able to finish off the game even when we got those breakthroughs later in the day," he said.
Off-spinner Ravichandran Ashwin continued to reprise his role as South Africa's tormentor-in-chief by grabbing another five-wicket haul and was ably supported by pace bowler Umesh Yadav (3-9) and Ravindra Jadeja (2-26).
India overcame some dogged resistance from the South Africans to complete a 3-0 series win in the four-match series and climb 10 points to move into second position in the ICC Test rankings.
Chasing an improbable 481 for win, South Africa were bundled out for 143 despite producing a stupendous resistance for the last two days.
De Villiers, who batted equivalent of almost 50 overs, scored 43 off 297 balls, while captain Amla made 25 off 244 balls.
India had previously ended South Africa's nine-year winning streak in away Test series after winning the third Test.
ANI