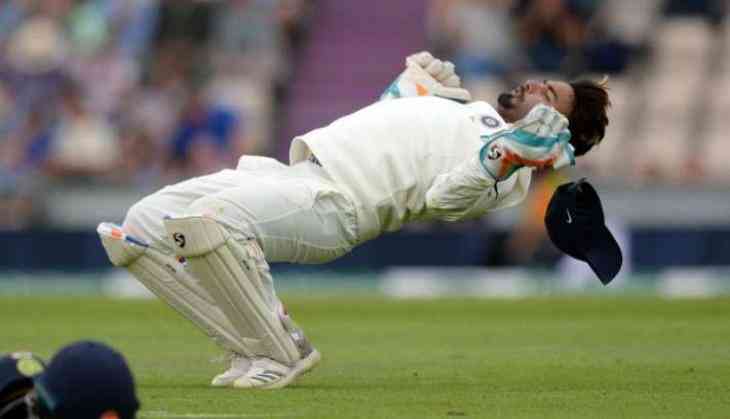 After a couple of morale-crushing defeats in the first two Tests (31 runs at Edgbaston) and (innings defeat at the Lord's), Virat Kohli registered a memorable victory in the third Test in Nottingham by 203 runs which helped them to bounce back in the five-match Test series.
India openers Shikhar Dhawan (3) and KL Rahul (11) survived the tricky 15-minute period towards the end as India finished day 1 of the fourth Test with 19 runs on the board without losing any wicket.
But on the other hand Rishabh Pant struggled with the wicketkeeping gloves. As a result, he ended up conceding as many as 23 byes. He also dropped the catch of Jos Buttler but fortunately it did not cost India much.
Here's how Twitter Reacted:
Rishabh Pant needs to work on his wicket keeping technique. Horrible horrible technique he has. Else Saha would out kick him easily. #EngvInd

— Ecstasy (@Pungebaaz) August 30, 2018
Return back @Wriddhipops as soon as possible.
The technique of Rishabh pant is totally waste in terms of wicket keeping.
Saha continued to save more runs behind the stumps but rishabh not!
That is the successful point that saha have ..

— Tanweer Hasan (@tanweerhasan264) August 30, 2018
Rishabh Pant proving you should always have the best WicketKeeper in the team!!!

— Josh Winterton (@josh_winterton) August 30, 2018
Rishabh Pant ~ I Love You...

Girlfriend ~ You Are Lying, You Don't Even Miss Me...

Rishabh Pant ~ Baby I Miss You More Than I Miss Catching Balls Down The Leg Side...#ENGvIND

— Babu Bhaiya (@Shahrcasm) August 30, 2018
Guess @nassercricket did a great job jinxing Rishabh Pant's keeping today. After Nasser's segment on the Indian keeper, Pant has dropped a catch and has conceded 22 byes already.#ENGvIND

— Sidhant Maheshwari (@msidhant) August 30, 2018
Also Read: Here is how Australian batsman Adam Gilchrist applauded Virat Kohli for 'pleasing remarks' on Test cricket