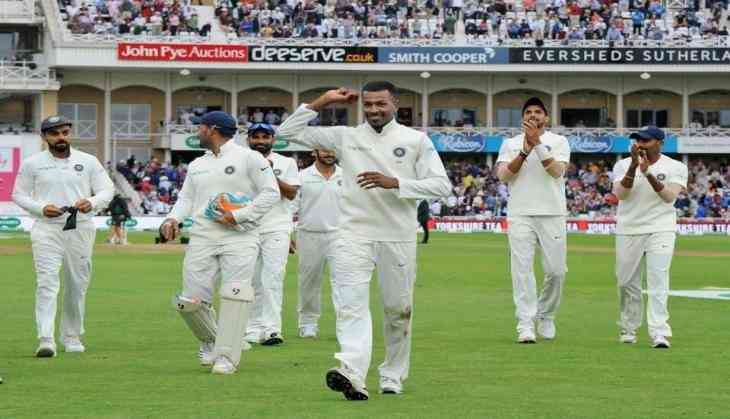 Indian pace all-rounder Hardik Pandya claimed his first five-wicket haul to help the Virat Kohli led Indian cricket team to bowl out England for 161 on day two of the third Test at Trent Bridge in Nottingham.
The former West Indies cricketer Michael Holding assesed Hardik Pandya on his own merits and said he was "nowhere near" becoming the "next Kapil Dev". However in return Hardik Pandya slams Michael Holding and said "Let me be Hardik Pandya. I am good at being Hardik Pandya, and I have reached here till now played 40 ODIs and 10 Tests being Hardik Pandya, not Kapil Dev."
Virat Kohli's men dominated the Day 2 of the third Test against England at Trent Bridge in Nottingham. Virat Kohli's men scored 124 runs for 2 in their second innings. India's juggernaut extended their lead to 292 runs and maintained the totat control over the game.
As reported in The New Indian Express India's pace all-rounder Hardik Pandya cited that "Comparisons are fine. But the problem with this (comparison) is that all of a sudden when something goes wrong and they are like he is not that. I have never wanted to be Kapil Dev.
"They have created their era, let me be Hardik Pandya. Let's stop comparing me with anyone. I will be happy if you don't," he said.
"I don't play for them (critics). They are getting paid for saying things which I don't even want to know or care. I play for my country. I am doing the right thing. My team is happy with me, nothing else matters," he said,
There's no better feeling than making the ball do all the talking. Dream day yesterday, picking up my first fifer in Test cricket.

Now the focus shifts to the last 3 days of the Test match. Let's do this 🇮🇳! pic.twitter.com/aVvNyHHonF

— hardik pandya (@hardikpandya7) August 20, 2018
MUST WATCH: @hardikpandya7 on comparisons with former greats & his maiden fifer in whites that rocked England on Day 2 at Trent Bridge - by @RajalArora
P.S. Teammate @klrahul11 takes up mic duties #TeamIndia #EngvIND

Full Video Link ▶️ https://t.co/iosvVdkju6 pic.twitter.com/9YzJDnY0e6

— BCCI (@BCCI) August 20, 2018
"We were bowling the same length that we were bowling in the other games as well. It's just that we were getting enough swing and obviously the situation was such if they played a bad shot it would be India on the up again. So we had the cushion of having runs under the belt," he said.
"If you see the other two games I have done the same thing (bring variations in wrist and grip position). It's just that today I got the wickets, that's it. I feel that with my bowling style it is important to it because they will get used to it if I come and bowl with the same length."
"I don't swing both ways that much, and my outswing is my main ball so that's why I keep on using. It makes difficult for them to get it exactly where I am bowling," he added.
Also Read:India Vs England: Gautam Gambhir is all set to join BJP to contest in Delhi elections and twitter welcome him