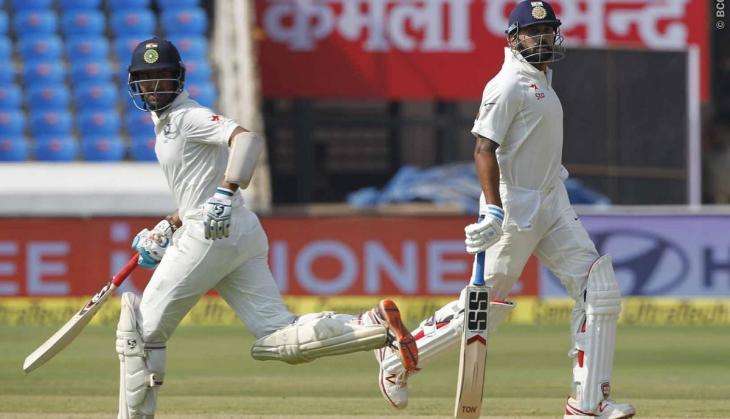 Opener Murali Vijay and Cheteshwar Pujara provided India a solid start as the hosts reached a comfortable 86 for one at lunch on the opening day of the one-off cricket Test against Bangladesh, here.
Opting to bat, India overcame first-over dismissal of Lokesh Rahul (2) as Vijay-Pujara duo added 84 runs for the unbroken second wicket stand on a track that hardly had any demons in it.
Vijay, who survived an easy run-out chance, eased his way to 45 off 71 balls while Pujara looked equally comfortable on 39 off 86 deliveries. Vijay had six boundaries to his credit, while Pujara had four hits to the fence.
Bangladesh were disciplined at the start but lacked fizz on a pitch that will get slower as the match progresses.
Rahul, whose scores hover between single and three digits in longer format was bowled, when he dragged a fuller delivery from Taskin while attempting a cover drive.
Taskin's new ball partner Kamrul Islam Rabbi worked up decent pace with his slinging action. Vijay and Pujara were initially cautious as only seven runs came off the first five overs.
The first boundary came in the sixth over bowled by Rabbi when Pujara opened the face of his bat to glide it past point region.
The seasoned duo, who have been involved in some great partnerships over the years decided see off the new ball with first 10 overs yielding only 26 runs.
Once Soumya Sarakar was introduced as the first change bowler in the 11th over, Indian batsmen opened with Pujara whipping him for a boundary.
A cautious Vijay then showed his range of strokes using Rabbi s pace and extra bounce to good effect. He pulled the pacer thrice for boundaries. The first couple were pull shots behind square and the third was past square leg a typical Nataraja Shot which would remind one of Kapil Dev. He hit an eye catching cover drive off Taskin.
Vijay looked in good touch and Pujara s defence looked impregnable as Bangladesh bowlers didn't bowl that well in the second hour. Young off-spinner Mehedi Hasan Miraz was hit for a boundary by Vijay. It was a deliberate steer past the third man region.
The only time that Vijay was in real trouble was a miscommunication with Pujara with both turning up at the striker s end. The fielder, Rabbi, landed an accurate throw at the non-striker s end but Miraz bungled with collection as Vijay made it in nick of time.
Pujara's best shot in the pre lunch session was one hit back past Rabbi that rocketed to the fence.
--
PTI