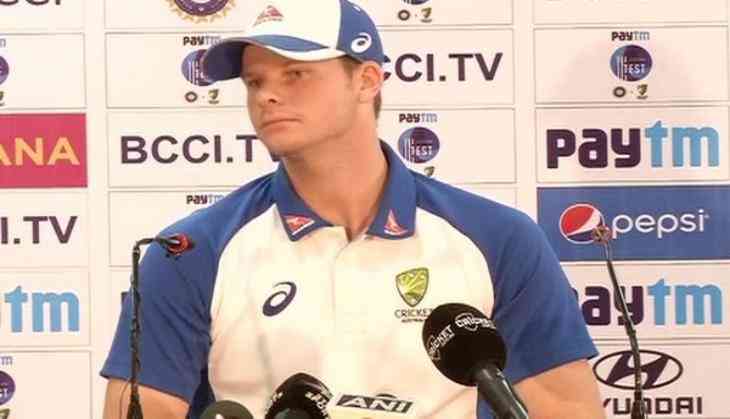 Steve Smith on Wednesday said that he was 'disappointed' by Virat Kohli's statement that Australia broke the DRS protocols repeatedly in the second Test in Bengaluru, dubbing them as "completely rubbish".
Kohli had been facing the wrath of many for claiming that the visitors 'crossed the line' at least twice following the DRS controversy, involving Smith, that took place during the Second Test which India won by 75 runs.
Ahead of the third Test in Ranchi beginning Thursday, the Indian skipper maintained that he stood by his claims and that he didn't regret anything he said about the Bengaluru Test.
"I think about what I say. I don't regret anything that I have said but at the same time, it's very important not to be stupid and go on with the same thing on a daily basis because there's cricket to be played. There was a decent break in between," Kohli said on Wednesday.
However, Smith said that he was disappointed by Kohli's statements as he had already admitted that he made a mistake after the Test match.
"It was a little bit disappointing. I think that obviously I made a mistake and I came out and said that. What I did was wrong and I know that," Smith said while addressing a press conference.
"But that was the first time it has happened. I know as a team we don't do that. And I think his comments... I think he said that we did it twice while he was out there. I don't think he was out there long enough for two appeals. He's entitled to his opinion, but from my point of view he's completely wrong."
"Virat obviously stuck by his comments. From my point of view, they are completely wrong. I obviously came out after the game and said that I had made a mistake. It was an error on my behalf. I had a brain fade. In regards to we do it consistently, that's complete rubbish in my opinion. So, I think he was wrong in his statement," he added.
The Australian skipper asserted that it was in everyone's interest that they move on and concentrate on the remaining two Test matches.
"It's about moving on and concentrating on this Test match. I think it has been a great series so far and again hopefully cricket can be the winner in this Test match. It's an exciting moment, 1-1 in the series. We are all excited about this Test match and hopefully it can be a good one," he said.
Australia had won the first Test of the four-match series by 333 runs at Pune. However, the hosts came back strongly in the next game and defeated Australia by 75 runs to level the series.
Test Squads---
India :Virat Kohli (c), Murali Vijay, KL Rahul, Cheteshwar Pujara, Ajinkya Rahane, Wriddhiman Saha, Ravichandaran Ashwin, Ravindra Jadeja, Ishant Sharma, Bhuvneshwar Kumar, Umesh Yadav, Karun Nair, Jayant Yadav, Kuldeep Yadav, Abhinav Mukund.
Australia: Steve Smith (c), David Warner (vc), Ashton Agar, Jackson Bird, Pat Cummins, Peter Handscomb, Josh Hazlewood, Usman Khawaja, Nathan Lyon, Shaun Marsh, Glenn Maxwell, Stephen O'Keefe, Matthew Renshaw, Marcus Stoinis, Mitchell Swepson, Matthew Wade.
--ANI