Rohan Raj
| Updated on: 11 February 2017, 5:46 IST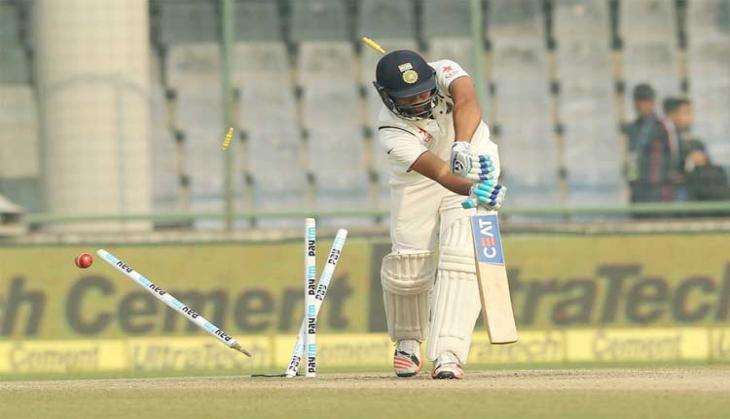 Be it Virat Kohli or MS Dhoni, Indian batsman Rohit Sharma has thoroughly enjoyed a lot of faith from his captains. But, despite being backed by his skippers, the Mumbai batsman has failed to repay the faith with inconsistent performances in Tests.
Rohit's below-par Test record was once again the focus of discussion when the selection committee, headed by Sandeep Patil, picked the Indian squad for the upcoming home series against New Zealand.
But, contrary to popular perception, the Indian selectors decided to retain the right-hander while ignoring his past failures in the longest version of the game. "Everyone, from selectors, coaches and the captain, felt that Rohit is a fabulous player and he needed a longer run to prove himself," Patil said.
With his malleable wrists and knack to find gaps - to name a few of his qualities, there is no denying that Rohit oozes batting talent. But, for a batsman who holds the world record for the highest individual score in ODIs, Rohit is yet to make a mark in the longest format during his delayed 18-Test career which initially began with back-to-back hundreds in 2013.
Since then for over two and a half years, the Mumbaikar has struggled to adapt to the long format. Amid his struggles, the fact that a few talented youngsters are being ignored by the selectors makes his selection more questionable.
Whether the right-handed batsmen will be able to answer his critics with an improved performance in the upcoming series or not, remains a matter of conjecture. But, his past outings in the whites surely seem to make a crucial point.
Ordinary Test career
Considered to be a batsman with a wide range of strokes, Rohit has been in and out of the playing XI since his twin hundreds against West Indies in 2013. During the two-match Test series against South Africa in 2013, Rohit could only muster 45 runs in the series. Even Dale Steyn (60 runs) scored more than the Mumbai batsman in the series.
He did manage to score a morale-boosting 72 in the first innings of his next Test against New Zealand in 2014. But, much to the dislike of his own self, Rohit failed to post a fifty in his next eight Test innings.
Since then, the right-hander has struggled to find consistency in the longer version with just three fifties - 53 vs Aus in Jan 2015 and 79 & 50 vs SL in Aug 2015 - to his name. In the 18 Tests he has played so far, Rohit is yet to cross 1,000 runs with an ordinary average of just under 33.
Lack of temperament
Barring the swashbuckling Virender Sehwag, not many batsmen would prefer to deploy a wild hoick against an in-form bowler - atleast in Test cricket. Such is the case with Rohit who, not once, but on numerous occassions has drawn the ire of his critics for throwing his wicket away.
It further questions his lack of temperament which has proved to be the nemesis for Rohit in the longer format. His laid-back attitude and inability to measure the Test match situations has often led Team India, his captain and his own self down.
The Delhi Test against South Africa in 2015 is a classic case. With India reeling at 136-4, Rohit decided to take on South African off-spinner Dane Piedt despite seeing the long-on back on the ropes. At a time when India needed someone to steady their innings, Rohit's dismissal meant that the hosts were precariously placed at 138/5 and Ajinkya Rahane had only Wriddhiman Saha and the tail-enders to work with.
Failure to support middle-order
Rohit has failed to reach the double-figure mark 13 times out of his 36 innings in his two and a half year Test career. Despite all the backing he has got so far, the right-hander has failed miserably against the leading Test nations. The fact that his average reads a shocking 8.87 from four Tests against South Africa, makes the case stronger.
For a player whose role is to provide adequate support to the middle-order, the 29-year-old has failed to fit the bill as a specialist batsman. More often than not, tail-enders, who have arrived at the crease after his dismissal, end up performing well.