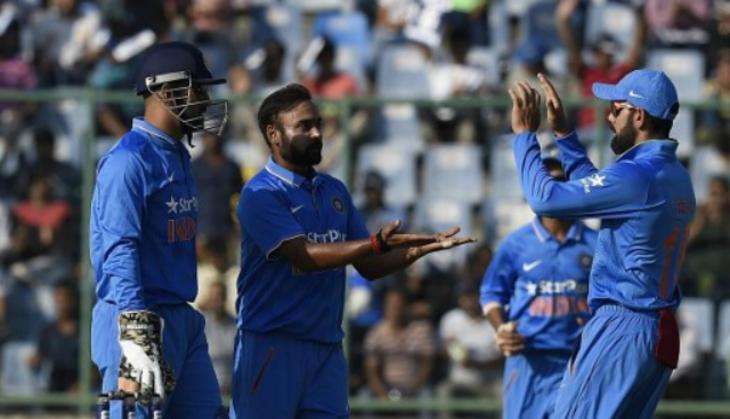 Leg-spinner Amit Mishra may not be a regular in India's limited overs set-up but he is relishing the role of a senior spinner in the ongoing ODI series against New Zealand, in the absence of the rested Ravichandran Ashwin and Ravindra Jadeja.
After not getting a game in the Test series, Mishra has made it count in the one-dayers by picking up three wickets in both Dharamsala and Delhi. "The experience (of helping youngsters) has been good so far. Whenever they ask me, I give them tips.
Even in the game, they ask me during meetings and I try to help them as much as I can. I am really enjoying this role and I feel it is my duty to support the youngsters," said Mishra on the eve of the third ODI against New Zealand, in Mohali on 23 October.
A berth in the Champions Trophy seems like a long shot for Mishra at this stage. He has been in and out of the team across formats ever since making his international debut in 2003. While he is happily sharing the tricks of the trade with youngsters like Axar Patel and Jayant Yadav, Mishra gets his share of learning from coach and former teammate Anil Kumble.
"Anil bhai helps me a lot. He doesn't talk a lot about technique, it is mentally that he helps a great deal. For example, I was not selected in the eleven for the Test matches but still he was there to help me. Besides, we discuss where to bowl, at what pace to bowl, the field placement against the batsmen. It is a lot of learning."
"Even though he (Kumble) is a bowler, he is always giving tips to batsmen especially the tail-enders who can play a crucial role in matches that go down to the wire," added the spinner.
One reason Mishra has not cemented his place in the team, especially in the shorter formats, is because he has not been able to contribute much with the bat compared to the younger blood. Even in the last game in Mohali, he was out to a reckless stroke when the match was set for a tight finish. Eventually, the team suffered an unexpected loss in the second ODI.