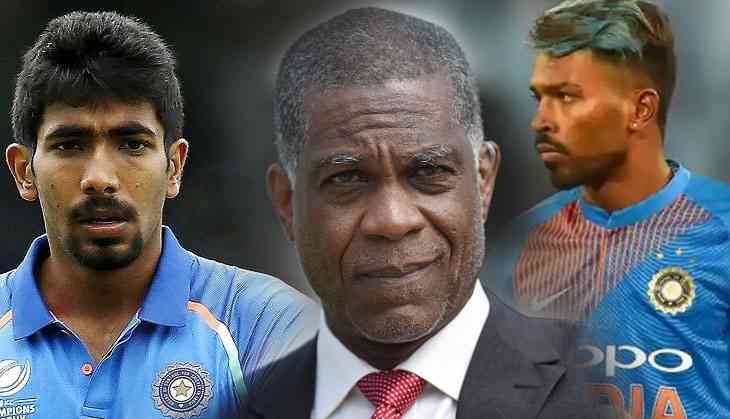 The West Indies former fast bowler Michael Holding had slammed Hardik Pandya's 'all-rounder' ability and Jasprit Bumrah pace with the new ball ahead of the Trent Bridge Test match in Nottingham.
After his comment on the Hardik Pandya he justify about his controversial statement. He clarified that he never doubted Pandya's all-round skills. He had also said that Pandya was "nowhere near" Kapil Dev.
Former cricketer Michael Holding had criticised India's all-rounder Hardik Pandya and Indian pacer Jasprit Bumrah before the match. But the Holding's statement backfired as Pandya and Jasprit Bumrah impressed in his very next outing.
However, the Indian duo being the heroes of India's thumping victory. While all-rounder Hardik Pandya produced a fiery spell of 5/28 in the first innings and then scored a quick-fire half-century. On the other hand Jasprit Bumrah five wickets in the second innings to help India come back in the series.
Here is how Twitterati burns Michael Holding's comment
First Pandya and now Bumrah. What a test match for Michael Holding 🤣🤣 #ENGvIND

— BlueBee (@marypoppins09) August 21, 2018
Michael Holding:

"Kohli isn't a great batsman since he failed in England"

"Pandya isn't an all rounder"

"Bumrah isn't a new ball bowler"

"Rohit Sharma isn't talented"

"Sachin and Dhoni are overrated"

"Ashwin cannot take wickets outside India"

"Ravi Shastri is a good coach pic.twitter.com/HINNibFF9T

— Viratian Shark (@Viratkohli_cc) August 22, 2018
If Holding faced the same level of scrutiny he applies to Indian cricketers, he would have been dropped from the commentary box by now for failing to get any predictions right and having little idea on how the modern game works. https://t.co/kHF7OXDdS9

— cricBC (@cricBC) August 22, 2018
Michael Holding before the series " I would not take Bumrah in England" 5 wickets for him in his first match. Before this match "Pandya is not ready to be all rounder" 5 wickets and a quick 50. Can you please keep your statements to yourself Mr.Holding ? @SPNSportsIndia #ENGvIND

— Abhi Panchal (@iamabhi1909) August 22, 2018
This Is What Michael Holding Had To Say At The Beginning Of 2018.

"I Would Not Play Bumrah In England."

Mic Drop !!#ENGvIND #INDvsENG #Bumrah #KoiKasarNahi pic.twitter.com/DnK6im6pmH

— CricketStories (@stories_cricket) August 22, 2018
Also Read: India Vs England: Michael Holding clarified his controversial statement on Hardik Pandya; find out here