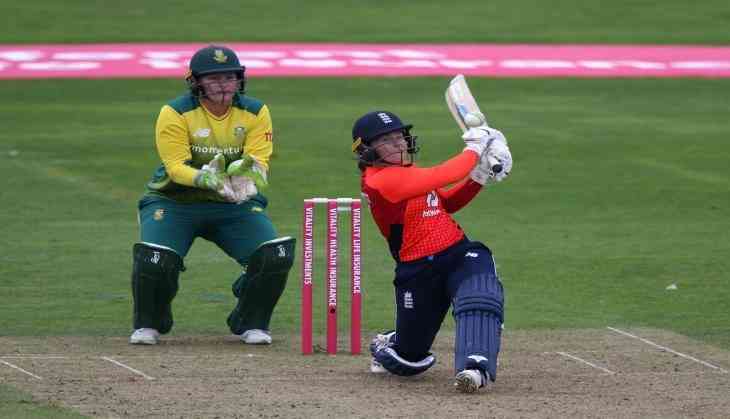 Unbelievable knock by England batswomen that will go down in the history boooks. Tammy Beaumont's maiden T20I century powered England to a record win over South Africa.
England posted a new women's Twenty20 international record of 250 for three against South Africa.
Just hours after New Zealand had done the same thing to the Proteas at the same ground in the second match of T20 triangular series at Taunton on Wednesday.
The same record broken twice on the same day https://t.co/bsI1UJpaAD pic.twitter.com/q6SdXgUSMH

— ESPNcricinfo (@ESPNcricinfo) June 21, 2018
England have finished on 250/3, breaking the world record for the highest women's T20I innings set earlier today by the @WHITE_FERNS! What a performance!

Can South Africa chase this down?#ENGvSA LIVE ➡️ https://t.co/JCOiX3fawP pic.twitter.com/F295ljHlH1

— ICC (@ICC) June 20, 2018
2️⃣5️⃣0️⃣/3️⃣@WHITE_FERNS record for the highest T20I score stood for less than a day as England racked up a mammoth total to beat South Africa#ENGvSA REPORT 👇https://t.co/plrCNRuOTn pic.twitter.com/MtHYCMck61

— ICC (@ICC) June 20, 2018
💯 for Tammy Beaumont!

Just 47 balls!

The second fastest in women's T20Is, and her third in a row in all formats for England!

What a player!#ENGvSA LIVE ➡️ https://t.co/JCOiX3fawP pic.twitter.com/7waywIoHLs

— ICC (@ICC) June 20, 2018
As reported in ESPNcricinfo "We saw the Kiwi girls broke [the record] this morning," Beaumont told Sky Sports. "Robbo [Mark Robinson] told us in the pre-match chat not to try and break it, but I think a few of the girls got a bit of a challenge on. It's an incredible wicket, and we feel a bit sorry for the South Africa girls having to go two in two, but that's the way it goes in this T20 series and we've all got one of those."
Also Read: Indian Cricket team all set to make a debut in inaugural ICC World Test Championship against West Indies next year