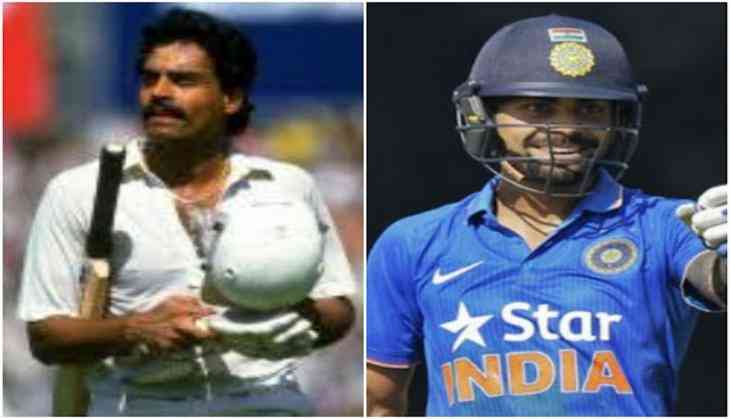 Run-machine Virat Kohli is a renowned name now and you won't be able to believe that someone lost his job just because he selected this talented player in the team.
Virat Kohli, who is creating history every day with his unique batting style, was once a fresher and Dilip Vengsarkar, who was the chairman of the BCCI selection committee at that time, was removed from his post for selecting Virat Kohli.
In the year 2008 during India vs Sri Lanka ODI series when Virat Kohli made his debut in the international cricket, it was Dilip Vengsarkar who picked him, it was also Dilip Vengsarkar who once again hand-picked the Delhi lad for the Australian tour. Even though, later Mr Vengsarkar was removed from his spot for choosing Virat, yet the cricket fans of India will be happy to know that he made such a wise decision at that time.
Also Read: Virat Kohli's 200th ODI: Stats prove 'Run Machine' is far ahead of the world's legendary batsmen
Television Journalist Rajdeep Sardesai have revealed this in his latest book Democracy's XI, that N. Srinivasan's first choice was Tamil Nadu lad S. Badrinath, but Vengsarkar just wanted Virat Kohli in Indian squad no matter what. Even after N. Srinivasan took this matter to the then BCCI president Sharad Pawar, Vengsarkar still picked Virat Kohli for India team.
The former chairman of the BCCI selection committee Vengsarkar was quoted as saying that,
"When N. Srinivasan, the board treasurer and controller of Tamil Nadu cricket, found out I had dropped Badrinath for Virat, he was livid and went and complained to the board president Sharad Pawar. The next day I was removed as chairman of selectors but fortunately, they couldn't change my decision to pick Virat".
Also Read: Forget Anushka Sharma, this Bollywood diva is Virat Kohli's No 1 heroine
Before making his International debut in the Indian squad, Virat Kohli had led India U-19 team in winning World Cup in 2008. After making his debut in international cricket Kohli had struggled with his form scoring only two fifties in his first 10 innings. There was one more reason that selectors didn't want him in the team because of his flamboyance image. He had become the victim of an "image trap" discloses another selector.
The selector was quoted saying that, "We were being fed stories of how Virat was binge-drinking in the 2009 IPL in South Africa and was more interested in his hairstyle and tattoos than his cricket."
However, the 28-year-old cricketer described those reports as "unfair rumours" and describe that time as "depressing period".
Also Read: Not just Kangana Ranaut, these Bollywood divas also desire 'Virat Kohli'
Meanwhile, team India's star all-rounder Yuvraj Singh has supported Indian skipper and said, "I think I once told Virat quite seriously that 'if you want to be a top class player, don't copy me, make Sachin your inspiration. Be disciplined like him, not carefree like me'."