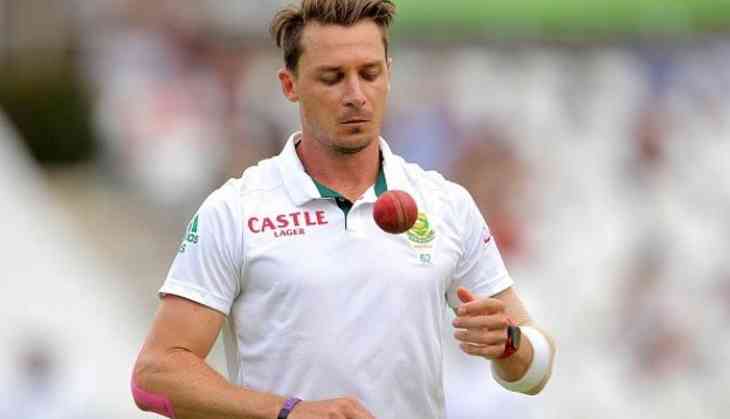 Fast bowler Dale Steyn has achieved the milestone of being South Africa's highest wicket-taker in Test cricket on Day One of their ongoing Boxing Day Test match against Pakistan. He surpassed former pacer Shaun Pollock's record of 421 wickets to get to the top position.
The 35-year-old, who was just one wicket short of achieving the feat, took only 19 balls to get to the landmark when he scalped the wicket of Pakistan opener Fakhar Zaman in the seventh over of the match.
Pollock, who was in the commentary box when Steyn claimed his 422nd Test wicket, congratulated the right-arm bowler for being a "fantastic" pacer for South Africa. While asserting that Steyn deserves to hold the record for most Test wickets, Pollock hoped that he goes on to achieve many more milestones in his career.
"A heartfelt congratulation to Dale. He's been a fantastic bowler for SA for so long. His performances both home and away have been remarkable in so many ways. The fact that he is the best Test fast bowler that SA has produced doesn't require my endorsement as his stats and record tells you that," Sport24 quoted Pollock, as saying.
"He's fully deserving of holding the record for most Test wickets and I hope that he goes on to take many more and continues winning games for the Proteas. He has spearheaded the attack for many years giving the team a lift when they needed it most. More importantly, he's a great guy and deserves all the best," he added.
As soon as the bowler scalped his record-breaking Test wicket, good wishes started to pour in from the cricketing world.
Former South African skipper AB de Villiers took to Twitter and congratulated him from being "simply the best."
"Dale Steyn, we salute you! What a man, what a player. Fitting that "Simply the best" is playing at Supersport Park, where everything started! Congrats legend @DaleSteyn62," he wrote.
South African pace legend Allan Donald also acknowledged Steyn's feat and encouraged him to eye 500 Test wickets.
"Didn't waste much time getting to 422 test poles this morning. @7polly7 will be proud there's no doubt. I asked @DaleSteyn62 if he would love 500 test wickets and he said..Not sure if my body would allow it? Well you look fit, strong and motivated pal so let's do this," Donald tweeted.
Former South African cricketer Graeme Smith had just one word for the bowler that is "Legend."
"#legend @DaleSteyn62," Smith tweeted.
Steyn had reached the 400 Test wickets mark in July 2015 but a series of injuries afterwards kept the pacer out of action for most of the matches resulting in a delay in breaking the Test record.
-ANI