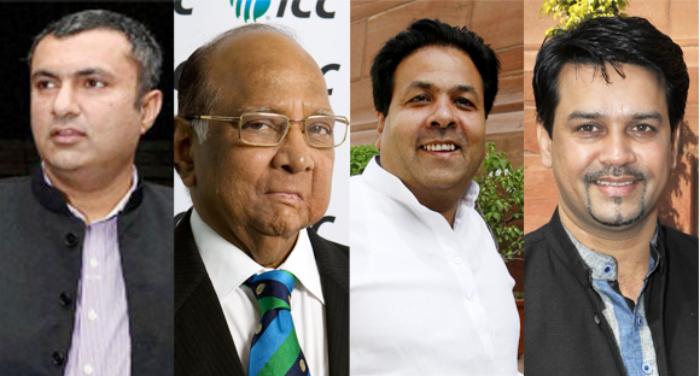 In a significant development to resolve the leadership logjam at the Board of Control for Cricket in India (BCCI), Board secretary Anurag Thakur and some other top officials belonging to the Sharad Pawar faction had a meeting with Union Finance Minister Arun Jaitley to find a consensus candidate for the President's post following the death of Jagmohan Dalmiya.
Thakur, alongwith former BCCI president Shashank Manohar and former treasurer Ajay Shirke, met Jaitley at his residence on Thursday night and discussed the way forward to break the leadership stalemate.
With the news of a possible alliance between former BCCI presidents and known foes Sharad Pawar and N Srinivasan gaining momentum, the Thakur faction have also started back channel talks with key members of the Pawar faction.
In fact Manohar and Shirke, two of the most vocal members of the anti N Srinivasan faction, flew to Delhi on Thursday evening to not only meet Jaitley but also hold discussions with other key BCCI officials.
"Yes, there was a meeting that took place at Mr Jaitley's residence. Manohar and Shirke spoke at length about the current situation of BCCI with Mr Jaitley.Thakur was also present", a top BCCI official told PTI on condition of anonymity.
It is learnt that Manohar, the Vidarbha-based lawyer was offered the BCCI president's post for his clean image and being a crusader of anti-corruption in the board but apparently he declined the offer.
"Manohar has always maintained that he has played his innings as BCCI top boss. He does not wish to come back again but is ready to help the BCCI restore its faith among stakeholders. He has made it clear that he is not at all in favour of a Pawar-Srinivasan alliance," the source said.
-PTI