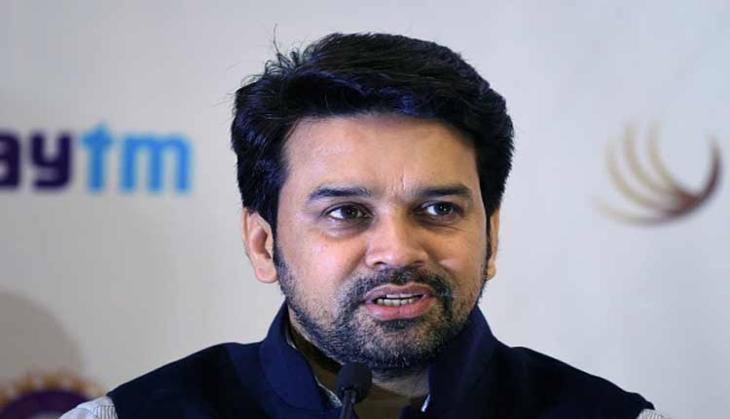 With an aim to revive the dwindling interest in the Test format, newly-appointed BCCI President Anurag Thakur on 22 May asserted that the cash-rich organisation will reserve at least 10 per cent of seats in all stadiums for students, girl-child and differently-abled citizens while announcing a slew of measures to popularise the sport more in the country.
"Cricket is one of the most popular sports in India, and for us cricket fans are very important," Thakur said in his first media address as the BCCI chief. "BCCI will make sure that at least 10 per cent tickets are given free of costs to students, girl child and differently-abled to witness the Test matches in India."
"In few stadiums, we've noticed seats are not numbered, so we have instructed all associations to number the seats in order to provide a hassle-free experience to fans. We will take every step to ensure Team India is the top-ranked team all three formats," said Thakur after replacing Shashank Manohar at the helm of the Indian cricket's governing body for the remaining term 2014-17.
Thakur also declared that future stadiums will be eco-friendly, insisting that the BCCI has earmarked Rs 100 crore budget for turning the existing stadiums into 'green-stadiums' by facilitating rain-water harvesting and installing solar panels.
In addition to these measures, the BCCI has reserved Rs 5 cr to help the visually challenged as well deaf and dumb cricketers.
Emphasizing on improving the state of women's cricket, he said: "As far as women cricket is concerned, we have increased their match fees, brought them under contract system. They will play more tournaments in coming years. Have sought a report from women cricket committee on what should be done at the national level and the state level."
When asked about the challenges and pressure his organisation faces in the wake of the Supreme Court-appointed Justice RM Lodha's recommendations for reforming the BCCI, Thakur said: "We are not running away from the recommendations of Lodha committee. We are trying to see what can be practically implemented."
"BCCI took various reformative steps even before the recommendations of the Lodha committee report were out. We understand our responsibility and efforts will be made to rectify deficiencies. There is always a scope for improvement."
He stated that the board will advertise for the post of coach today and will take a final decision after receiving all applications for which deadline is June 10.
In order to ensure transparency, Thakur said all state associations have been instructed to be active on social media platforms to engage more with the media and audience alike.
The 41-year-old, who filed his nomination yesterday for the post after resigning as BCCI Secretary, had received the backing of all six units of the east zone- Cricket Association of Bengal, National Cricket Club, Odisha Cricket Association, Tripura Cricket Association, Assam Cricket Association and Jharkhand Cricket Association.
The post of BCCI President had been lying vacant since Shashank Manohar stepped down earlier this month to become the International Cricket Council Chairman.