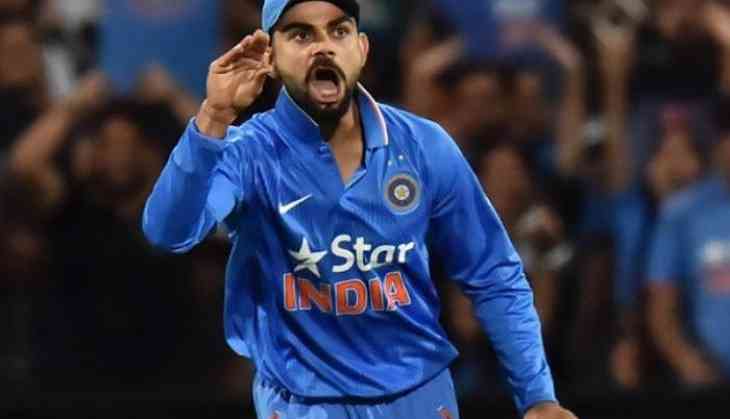 Indian skipper, Virat Kohli, who enjoys a huge fan base, remains in the headlines. Twitter army's latest trolling target is Kohli, whose picture of peeping through the dressing room window during the India-West Indies ODI series has gone viral.
No one has any idea of what really the captain intended to do at that time but the picture that went viral on the internet shows that he was having fun with who so ever was inside.
But Twitterati are never behind to pull the legs and started captioning the picture with their hilarious comments.
Here is how people captioned the image:
Uncle wo humari ball aayi thi, please de do 😇😇 pic.twitter.com/eAWv6vXBJ6

— Super Shaktiman (@FakeRainaNephew) June 23, 2017
"Jadeja bahar aaja Pandya Kuchh nahi bolega pakka" pic.twitter.com/Smp5mlNtQ1

— Pakchikpak Raja Babu (@HaramiParindey) June 23, 2017
Shami aur Karthik tumhe 1 mahine tak yahi andar baithe rehna hai. pic.twitter.com/VlwhrfKXj4

— Rishabh Bhandari (@jokebazz) June 23, 2017
Anushka, tum ready hogayi ya fir main akela chala jaaun? pic.twitter.com/i7hcVJeXi0

— SAGAR (@sagarcasm) June 23, 2017
"TV band karo Kumble aa raha hai". pic.twitter.com/2CPrM7ZAS3

— Sand-d Singh (@Sand_In_Deed) June 23, 2017
Kumble gaya kya? pic.twitter.com/aLKBV30lMU

— Keh Ke Peheno (@coolfunnytshirt) June 23, 2017
Media wale chale gye sab aajao bahar pic.twitter.com/YhWhkOf3ZS

— Romana Raza (@RomanaRaza) June 23, 2017
When your team is on field...but Set Max pe Sooryavansham aa raha hai pic.twitter.com/Y67ObA5mYL

— Zoombada... (@zoomphatak) June 23, 2017
Behen ji thodi cheeni milegi!! pic.twitter.com/dsFzAw5eBF

— जिज्ञासा (@imcurious__) June 23, 2017
Kumble ki tarif kaun kar raha hai BKL pic.twitter.com/tW3qKu8FJL

— Akshay Jain (@AkshayKatariyaa) June 23, 2017