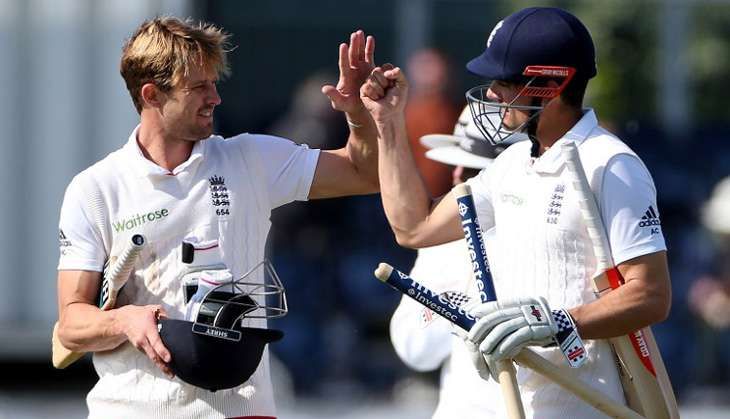 England skipper Alastair Cook, who will make his 134th Test appearance in Chittagong against Bangladesh on 20 October, will reach yet another landmark in his illustrious career.
Four years ago, Cook made the record for the most number of Test centuries by an England batsman. Earlier this year, he became the first Englishman to score 10,000 runs in the longest format of the game and now, he is set to overtake Alec Stewart as his country's most-capped Test cricketer.
After travelling 16,000 miles on a round-trip home to attend the birth of his second child, the left-hander is all set to lead the team in the first of seven successive Tests on the sub-continent between now and Christmas.
Also Read: Alastair Cook breaks Sachin Tendulkar's record to become youngest to score 10k runs
After the two-match Test series against minnows Bangladesh, England would face India, the current number one in the Test format, for a five-match series starting 9 November.
The 31-year-old left-hander averaged 69 in the 21 Tests he has played away from home against Bangladesh, India, Sri Lanka, and Pakistan.
Having scored 10,599 runs and 29 Test centuries, the most impressive part about Cook's illustrious career is the fact he has managed to play 131 of his 133 Tests to date consecutively.
Also Read: Alastair Cook, Alan Shearer honoured at Queen Elizabeth's 90th birthday
"I would never have thought in 2006 when I made my debut I would get close to breaking that record. It will be a very special moment. Luck plays a huge part in terms of never breaking a finger in catching practice or blowing up your knee the day before and getting a knock on it so you can't walk," cricket.com.au quoted Cook as saying.
"It doesn't matter whether you are playing your first game or your 134th, it is a very proud moment to play for England and you should never ever forget that and I certainly don't,"he added.
The England skipper, however, admitted that leaving so abruptly after the birth of his daughter on 16 October and arriving back in Bangladesh on 17 October afternoon, has been hard and may hamper his preparations for the opening Test starting from tomorrow.
"It's been quite an emotional 48 hours. As you can imagine, having another daughter and then leaving so soon afterwards doesn't make you feel like the best husband or father in the world," he said.
"It's great that mum and baby are doing very well and so it's very special but I'm out here now so I've got to go and play some cricket. I think mentally and emotionally it will be a big challenge but there's every motivation."
"It won't be hard when you get out there because you know what you've left behind - it's not going to guarantee you any runs but you can throw yourself straight in there and do the best you can because there is no point moping around," he added.
The first Test between the two sides will begin tomorrow while the second and the final Test would be played at the Shere Bangla National Stadium from 28 October.
--ANI