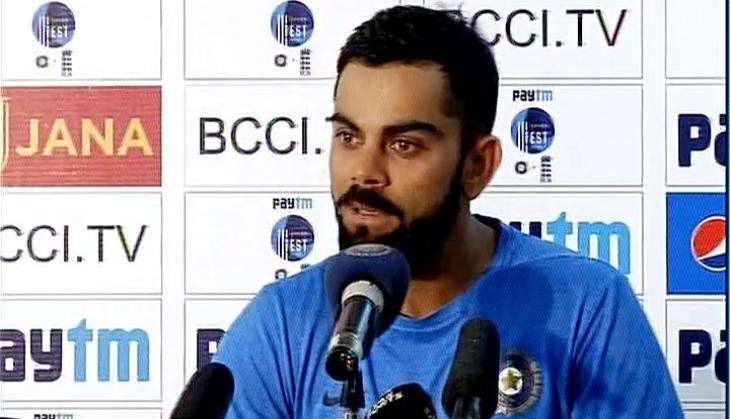 Indian Test skipper Virat Kohli on Wednesday strongly hinted that batsman Ajinkya Rahane would replace Karun Nair for the one-off Test match against Bangladesh beginning Thursday here at the Rajiv Gandhi International Stadium.
Nair struck a triple century in the last Test of the three-match series against England, which India went to whitewash.
He was called into the Playing XI after Rahane got his finger injured.
Speaking ahead of the match, Kohli said that although Nair did a remarkable job after stepping into Rahane's shoes, one game could not overshadow two years of hard work that the latter batsman had put in.
"One game does not overshadow two years of hard work from another player. That's my point-of-view. You need to understand what Jinx has done for this team. He is probably the most solid batsman in the Test format," Kohli told reporters about Rahane.
"Karun stepped into his shoes and what he did was remarkable. As I said, you cannot overlook two years of hard work from Ajinkya. He deserves to walk back into the team whenever he got fit," the skipper added.
Rahane has appeared in a total of 32 Tests and notched up 2272 runs including eight hundreds. His Test best of 188 came late last year against New Zealand in the final Test of the three-match series.
Besides that, his presence in the middle-order has also paved the way for several victories for India in the past.
India, unbeaten at home in 19 Tests since 2012, are currently at the top of the rankings, and are brimming with confidence after their recent series wins against New Zealand and England.
Downplaying his side is `invincible`, Kohli emphasized that his team were able to win games because of persistence, application and discipline and that their aim would be to continue the same against Bangladesh.
"We want to focus on our processes, playing good cricket. No team is invincible, no team is unbeatable. We have been able to win games because of the persistence by the bowlers, application from the batsmen and by coming back from tough situations. So our aim is going to be exactly the same as we had in the season just before the one-day and T20s," Kohli said.
The Indian batting mainstay further insisted that his side are not going to take Bangladesh lightly and would play in the same way as they did against other teams in the world.
"We can't take any aspect of their team lightly. We need to play the same like we did against any other side in the world. Bangladesh does have quality cricketers. The only way you can win Test match is by persistence, application and discipline. I think we will going to focus against those things and we want to have a complete team performance," he said.
--ANI