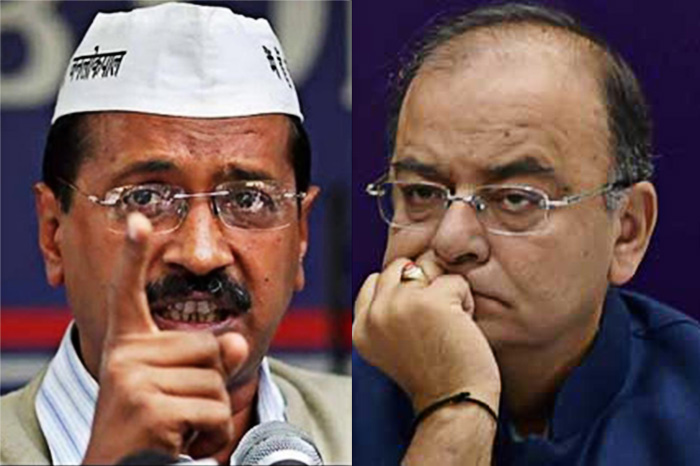 In a press conference in Delhi on 18 December, senior AAP leaders Sanjay Singh and Ashutosh made fresh allegations of corruption against Union Finance Minister Arun Jaitley.
The Aam Aadmi Party's fresh set of questions come a day after the Finance Minister rubbished all charges against him and said he would not respond to 'vague claims'.
1. Conflict of interest
In a blog post on 17 December, Arun Jaitley wrote that "no personal allegation was ever made against me."
The AAP called "this in itself a big lie", and brought up a letter written by BJP MP Kirti Azad to Arun Jaitley. In the letter, Azad had stated: "It is shocking to know that illegal corporate boxes were made and sub-leased."
Here's what the AAP leaders asked:
"A company close to you and your family - 21st Century - was tasked to sell and sublease these boxes for Rs 36 crore for which a commission was paid. You claimed no personal accusation was made against you. Is it not true that your party MP wrote to you. Question is, 21st Century is whose company? Lokesh Sharma is Arun Jaitley's personal friend.
2. Pressure tactics
"Is it not true that you put pressure on Oil and Natural Gas Corporation (ONGC) to pay Rs. 5 crore to Hockey India. Is it not a corrupt practice? Is it not a conflict of interest?
3. Lying and revealing half-truths
"Arun Jaitley wrote in his blog, Rs 114 crores was spent on the stadium. Engineering Projects India Limited (EPIL) was given the money. We have info that Rs 57 crore was paid to EPIL. But the remaining Rs 57 crore was not given. He is lying and hiding something. Arun Jaitley is the master of half-truths and beautiful lies. Question is where did the money go. A Delhi District Cricket Association (DDCA) fact finding committee report says payments made to companies. During investigation it was found nine companies have the same registered address, email id and directors."
Arun Jaitley is the master of half-truths and beautiful lies: AAP
4. Not being transparent about identity of companies
"Please tell us that which were these companies. Are they not fake companies? Did you take any steps? Is it not corruption? He wants to say that there were minor irregularities. Which was compounded to a fine of Rs 10 lakh. This is itself a big lie. Question is you resorted to falsehood claiming that a Serious Fraud Investigation Office (SFIO) report, that all irregularities were compounded and paid. He hid the fact that these irregularities were criminal and punishable by imprisonment. Please tell us why the Honourable High Court stayed the actions you called compoundable."
5. Questions about the relationship between Narinder Batra and Arun Jaitley
"Hockey India and Arun Jaitley's relations, we will tell you later. How Narinder Batra's wife and daughter are involved. We will tell you later."
Also Read:
#Modi-KejriWar: CBI's raid on Kejriwal was a bad idea
Also Read: The miracle that is the DDCA. Or why Kejriwal is going after Jaitley