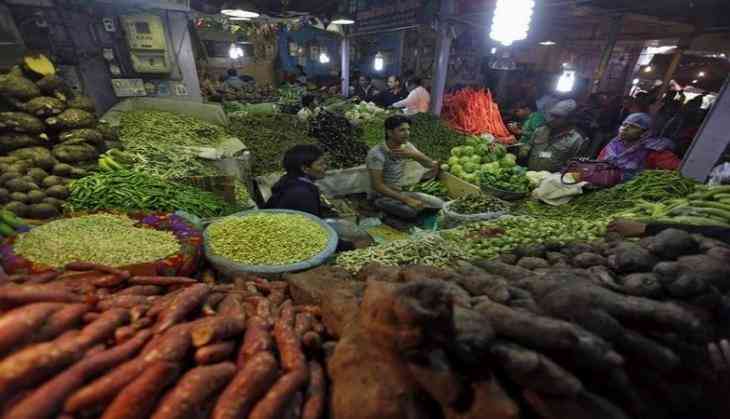 The Wholesale Price Index (WPI) numbers on 14 July softened to 0.90 percent during June, marking the lowest in 11 months.
Driven by plunging food prices, the latest price data released by the commerce ministry shows that food prices, especially pulses, vegetables, potato, and onion continued to fall for the fourth consecutive month owing to a supply glut.
However, the wholesale inflation remained low in the month of May touching 2.17 percent and (-)0.09 percent in June last year.
On the other hand, the Wholesale inflation rate, measured by WPI, witnessed a slump in prices of vegetables, cereals, oilseeds, potatoes, pulses, and onions have led to a decline in the index for `primary articles'.
The low wholesale inflation numbers sustained decline in prices of vegetables, potatoes and onions have been worrisome as these do not attract minimum support price (MSP), where the government purchases crops from the farmers, irrespective how steep or low the prices of crops are.
On the other hand, the Retail and wholesale inflation continued to remain identical in June due to similar reason-massive decline in food prices. India's retail inflation rate fell to a record low of 1.54 percent.
Potato prices plummeted (-) 47.32 percent in June, as against a growth 81 percent last year, while that of food articles fell (-) 3.47 percent from 7.78 percent the year before.
Also, the prices of onions fell (-)9.47 percent in June as compared with (-) 39.52 percent last year, while prices of pulses slumped (-) 25.47 percent from a growth of 27.35 percent year ago. Prices of non-food articles fell (-) 5.15 percent, compared with 6.15 percent a year ago.
Fuel and power inflation stood at 5.28 percent as against (-) 11.62 percent last year.
Prices of leather and leather related products also declined (-) 3.15 percent, compared with a growth of 1.23 percent year ago.
The baseline change for the WPI was much needed, in order to capture structural changes in the economy and improve the quality, coverage and representatives of indices. WPI has undergone seven revisions in base year, from time to time.
-ANI