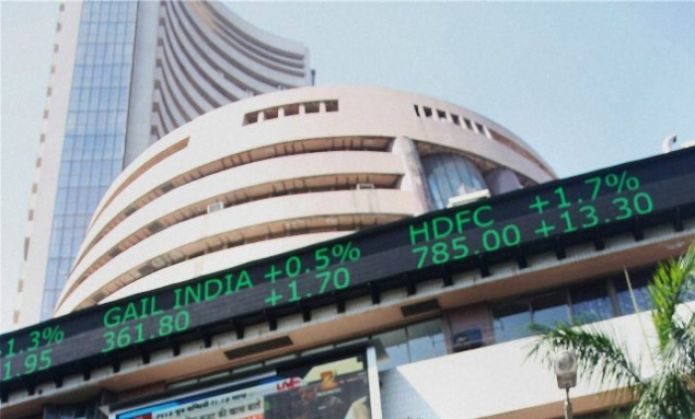 The BSE benchmark sensex ended the week 122 points in the green. It extended gains for the 2nd straight week on persistent buying in select counters as retirement fund manager Employees Provident Fund Organisation (EPFO) entered in the stock market through exchange-traded funds (ETFs) route from Thursday.
Foreign capital inflows and rise in services sector activity last month also boosted the market sentiment.
Services sector returned to growth in July, after two months of contraction, as new orders surged and hiring gathered pace to hit a two-year high rate, a survey showed.
The Nikkei India Services Business Activity Index increased to 50.8 in July from 47.7 in June, indicating the first rise in services activity in three months.
However, disappointing earnings number of state-run BHEL and fag-end profit-booking in select banking and pharma stocks coupled with prediction of below normal rain in second half by India's weather office restricted the gains.
The BSE Sensex resumed lower at 28,089.09 and hovered in a range of 28,359.96 and 27,866.12 before concluding the week at 28,236.39, disclosing a gain of 121.83 points or 0.43 per cent.
It has gained 124.08 points or 0.44 per cent in two weeks.
The CNX 50-share Nifty also moved up by 31.75 points or 0.37 per cent to close at 8,564.60. It has also gained by 31.75 points or 0.37 per cent in two weeks.
State-run power equipment maker, BHEL shocked the market by posting 82.48 per cent plunge in standalone net profit for the quarter ended June 30.
"Market participants took a cautious approach ahead of the US job data that could act as a strong cue as to when the Fed will raise interest rates," said Alex Mathews, Head Research at Geojit BNP Paribas Financial Services.
The Reserve Bank of India also disappointed the market by keeping the key policy rate unchanged citing inflationary concerns, a broker said.
In its third bi-monthly policy review, RBI kept the short-term lending rate, or repo rate, unchanged at 7.25 per cent and the cash reserve ratio (CRR), the amount of deposits lenders park with RBI, at 4 per cent.
Foreign investors bought shares worth Rs 1,683.78 crs during the week as per the SEBI's record including the provisional figure of August 7.
Among the 30-share sensex pack, 17 stocks finished higher while 13 others ended lower.
Major gainers were Tata Steel 5.96 pct, Dr Reddy 4.75 pct, Hindalco 4.18 pct, Sun Pharma 3.49 pct, Hero Motoco 3.34 pct, ONGC 3.39 pct, Maruti 2.86 pct, ICICI Bank 2.53 pct and Larsen 2.47 pct.
However, Coal India fell by 5.51 pct followed by BHEL 4.63 pct, Gail India 3.87 pct, HDFC 3.02 pct, Reliance Ind 1.73 pct and Bharati Airtel 1.67 pct.
Among the S&P BSE sectoral indices, Realty rose by 3.59 pct followed by Auto 3.44 pct, Consumer Durable 2.95 pct, Healthcare 2.78 pct, Capital Goods 1.72 pct, Bankex 0.94 pct and IT 0.87 pct.
Mid-cap and Small-cap indices also rose by 2.52 pct and 2.31 pct respectively on persistent buying from retail investors.
Total turnover at BSE and NSE were Rs 19,574.56 crs and Rs 97,273.30 crs respectively during the week.
-PTI