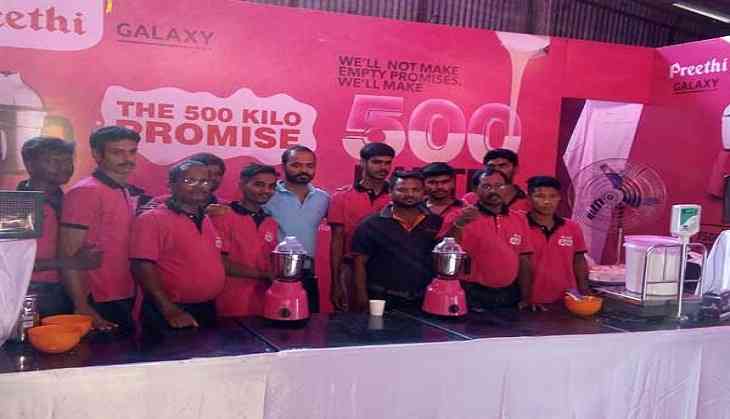 Preethi Kitchen Appliances, an inseparable brand of any Indian kitchen, entered Global Book of World Records, Asia Book of Records and India Book of Records recently for the demonstration of its mixer grinder's grinding prowess by organising the Longest Mixer Grinder Grinding Marathon-the first brand across the globe to achieve such a feat.
Preethi organised an event "The 500 Kilo Promise" wherein two Galaxy Mixer-Grinders were used continuously for 77hrs 50mins to produce 1000kg of batter together, at the Food Consulate Velachery. The ground batter was then distributed to various NGOs in Chennai to fulfill their breakfast needs.
Preethi Kitchen Appliances used its newly launched Galaxy mixer-grinder with Vega W5 Motor to attempt this challenge. The continuous grinding was possible due to the technically upgraded, sturdy and long-lasting Vega W5 Motor.
Zodiac, Taurus, Aries, Galaxy are a few mixer-grinders to name that are fixed with the upgraded 750W Vega W5 motor. Preethi, thus, set a new benchmark in the industry by converting lab endurance tests to consumer relatable promises.
Even after the intense strenuous grinding, the mixer-grinders stood unperturbed, ready to begin a new cycle of grinding. This 500 kilogram grinding challenge was a proof of the mixer-grinder's motor ability to grind large quantities of batter. Thus, with the record, Preethi confirmed its excellence in producing quality products over several decades.
"This is a proud moment for us. We are extremely delighted that Preethi's attempt has been recognized by multiple records registering bodies. The main idea behind the marathon was to prove that Preethi is capable of walking the talk. We understand that consumers have a tough time grinding urad dal, hence we selected the same for our marathon to prove our claim. The event came together really well with the support of a team that worked like a well-oiled machine," said GM Marketing Preethi Kitchen Appliances, Gowarthanan.
"The team worked day and night in shifts of four to successfully complete this challenge. We believe in providing the best to our customers, and for that we need to be at our best. It is, therefore, our endeavor to create new benchmarks and lead innovation in this industry. Vega W5 motor is one such technical advancement that takes mixer grinder grinding performance to the next level," added Gowarthanan.
-ANI