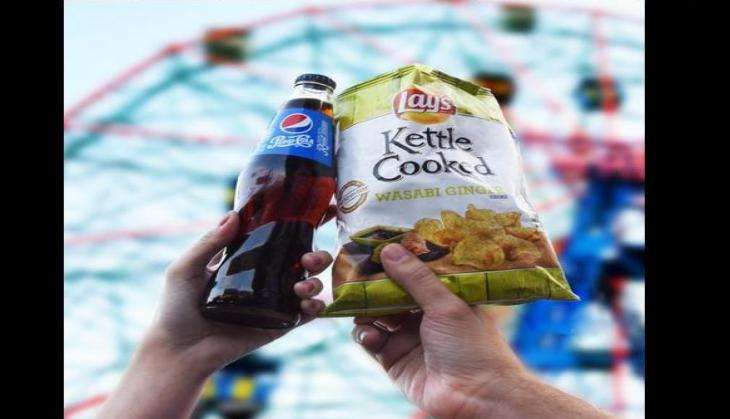 Beverages and food giant PepsiCo has unveiled a list of goals it hopes to achieve by 2025. Is your Pepsi can going to get healthier for you?
Let's take a closer look. PepsiCo aims to reduce sugar and salt in its products, reduce environmental impact of manufacturing, and make strides in the fields of human rights and economic development.
Here's the plan, as described on PepsiCo's official website:
Focus on health:
The reduction of added sugar, salt, saturated fat in its products is part of the company's larger goal to provide healthier products.
At least 2/3 of its global beverage portfolio volume will have 100 calories or fewer from added sugars per 12-oz serving.
At least 3/4 of Pepsico's global foods portfolio volume will not exceed 1.1 grams of saturated fat per 100 calories.
The company plans to increase positive nutrition by including one or more of the ingredients like whole grains, fruits and vegetables, dairy, protein in its products.
The company in its statement said that it will provide access to at least 3 billion servings of nutritious foods and beverages to under served communities and consumers "through a variety of channels and programs supported by the PeopsiCo Foundation-with an increasing focus on products that are locally sourced and produced, and readily accessible."
Focus on environment:
PepsiCo hopes to improve the water-use efficiency like local replenishment, respecting water as a human right by advocating strong water governance etc.
The company plans to lower carbon emissions in support of the United Nations' 2030 Agenda for Sustainable Development.
Achieve zero waste to landfill across all direct operations through efficient waste management
Reduce the food waste the company generate by 50%.
Strike to design 100% recoverable and recyclable packaging for the company.
Focus on Human Rights:
PepsiCo hopes to expand its Sustainable Farming Initiative(SFI) across the approximately 7 million acres to increase responsible agricultural practices, improve crop yields and growers' livelihoods and advance respect for workers' fundamental human rights.
The company plans to develop a diverse, inclusive and engaged workforce that reflects the global communities where the company does its business, achieve gender parity in management roles and pay equity for women.
PepsiCo Foundation will invest $100 million to support initiatives to benefit at least 12.5 million women and girls around the world in communities where the company works.