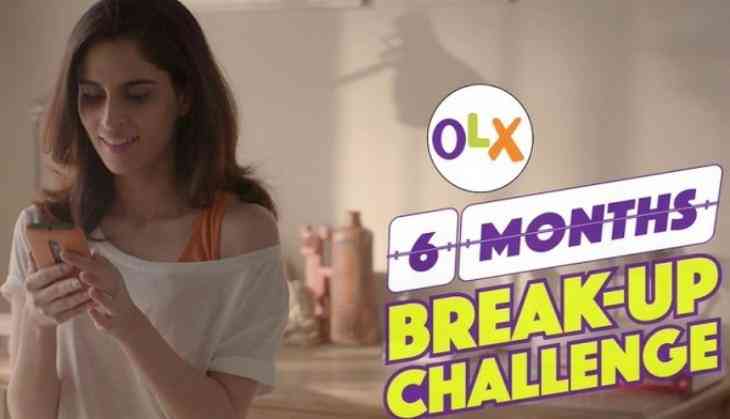 OLX, India's number one classifieds announced the launch of its latest brand campaign today that has gone live on television and digital, and will be amplified across radio, social media, and out-of-home in the coming weeks.
The campaign, known as the 'Six Months Break-Up Challenge' urges people to sell pre-owned goods that they haven't used for at least 6 months. The campaign is based on the insights gathered from CRUST (Consumer Research on Used-Goods and Selling Trends), OLX's annual consumer survey to understand user behaviour towards used goods, as well as other consumer trends.
A Campaign Derived Research Insights:
According to CRUST 2016, conducted by leading research firm IMRB, stocking is the most common activity pertaining to pre-owned goods, and Indians are stocking unused goods to the tune of Rs. 78,300 crore in their homes. The survey had also revealed that 37 percent of the respondents cite the age-old excuse of 'I'll use it one day' as their top reason for stocking used items.
To get a more nuanced understanding of the 'I'll use it one day' excuse, a separate online research by OLX covering 600 users across India in the age-group of 18-50 years was conducted in Feb-March 2017. According to this survey, one third of the respondents said that they have not used at least one item in their homes in the last six months. Furthermore, when asked whether they will use these items in the future, almost three out of five respondents gave a negative response. The survey revealed that stocking is higher for categories such as mobiles phones, electrical appliances, musical instruments, and sports equipment such as fitness bands, skates, and cycles.
"There are still so many people in India who are stocking things they have no use for under the excuse that they'll use it one day. This leads to inefficiency in our lives, in the economy, and in our society. The Rs. 78,000 crore of pre-owned goods being stocked in Indian homes has the potential to find its way back into the economy and into our lives, but it's lying idle and being wasted. We want India to unlock the potential of these pre-owned items by looking inside their homes. This will help bring about a bigger change by letting us consume more judiciously and wasting less," said CEO OLX India, Amarjit Singh Batra.
At the heart of this campaign is also the broader consumer truth around the increasing trend of impulse buying, especially of fashion accessories and hobby-centric items.
"As a brand we've always relied on consumer feedback and user understanding to develop our campaigns. However, this time we have completely based our campaign on our research findings, and the emerging trends. This makes the campaign an unprecedented one for us," added Batra.
Built on previous campaigns:
This campaign comes close on the heels of another 360-degree campaign in which OLX revealed the all new OLX App that has enhanced the ease and trust the of the platform on the back of some strong industry-first product offerings, and a fresh and contemporary design. The previous campaign led to triple-digit growth in daily active users and in replies, and a more than 30 percent jump in the engagement level of the App.
OLX's brand journey in India has been dotted with memorable and award-winning campaigns such as 'Badi Badi Batein', 'Womaniya, 'Keemat Bhi Kuch Keemti Bhi, 'No More Dekhte Hain' and 'Purana Jayega to Naya Ayega'
Campaign development:
Conceptualized by creative agency Lowe Lintas, the '6 Months Break-Up Challenge' depicts young, urban, and tech-savvy individuals. The name '6 Month Break-Up Challenge' has been conceived keeping in mind the popular culture, and the evolving vocabulary of the youth. The TVC campaign focuses on both the buyer and the seller, highlighting the ease and the convenience of the hyper simple buying and selling experience in a trusted environment.
The campaign will be run on television, radio, outdoors, and digital and social media. The Ad is being released in seven languages including Tamil, Telugu, Malayalam, Bengali, Marathi, Kannada and Hinglish.
"In this campaign, we wanted to continue the journey we had started with in our last campaign, where we managed to pitch the brand in a cooler, younger, and trendier way to the youth. Our task here was to make people realize that everyone had something or the other lying around that they were not using on a regular basis. We wanted to seed the behaviour of selling these lesser used goods rather than letting them become a blind spot. The creative idea was to encourage the audience to take up the 6 months' challenge, where they could identify things that they had not engaged within 6 months, and then "break up" with those things by selling them on OLX," said President Lowe Lintas, Naveen Gaur.
--ANI