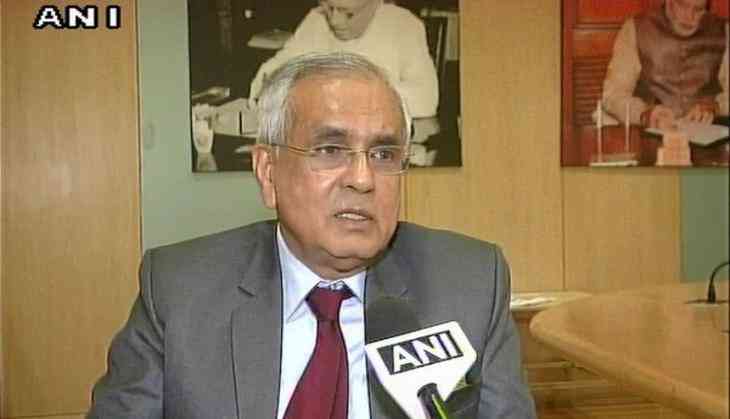 NITI Aayog vice-chairman Rajiv Kumar on Friday said the country's Gross Domestic Product (GDP) would grow at 8.5 per cent in the next quarter.
Speaking to ANI, Kumar said, "The automobile industry has seen a growth of 30 percent. Employment and investment would increase. In the agriculture sector, the previous quarter was 3 per cent. On an average, it was 2.6 per cent about 10-15 years ago. 5.3 per cent growth has been recorded in this quarter. Manufacturing has also seen a good growth of 13 per cent, which will increase. In the next quarter, I predict that GDP growth would be at least 8.5 percent."
Expressing happiness on the GDP data for the first quarter of the year (April to June), Kumar said that the numbers were in line with expectations.
"I have been saying that the growth in the first quarter will be 7.7-7.8 percent. But it came out as 8.2 percent. I am thrilled and the GDP numbers are beyond my expectations. This is a good thing for the common man. It demonstrates that our economy is on the upturn and is rising. The economic recovery began last July and I had said at that time that the second quarter will be higher and it was. Therefore this economic recovery is taking root and you will soon see this increase in growth rate being maintained and going higher in the coming quarters," he observed.
The Central Statistical Office (CSO) on Friday estimated that GDP for the first quarter of the year, that is, April to June this year, stood at 8.2 per cent.
Soon after the release of the data, former finance minister P. Chidambaram while comparing the GDP growth of the last three terms said the Q1 growth rate was based on the lowest base (5.6) in the last eight quarters and would decline in the future.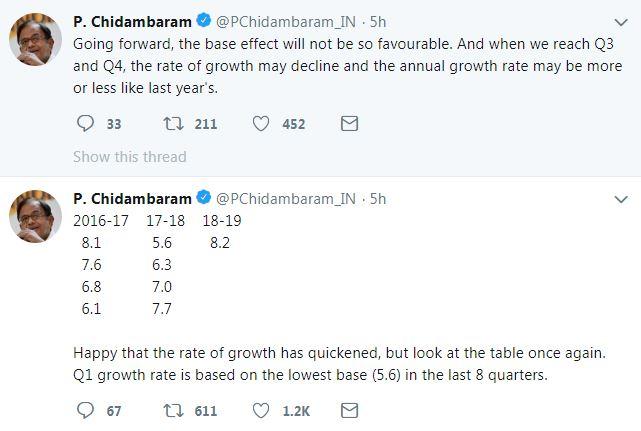 "Going forward, the base effect will not be so favourable. And when we reach Q3 and Q4, the rate of growth may decline and the annual growth rate may be more or less like last year's," he tweeted.
However, Kumar claimed that the senior Congress leader was making such statements for the sake of "opposition dharma."
"5.6 per cent is by no means, no imagination a low growth, low base. It's a reasonably high growth because that is the growth rate which India has experienced for decades to go and we are quite happy with it. So 5.6 per cent (as tweeted by Chidambaram) is not a low base, it is not a negative number. Whenever you talk about a low base, you normally talk about a negative number, and this is five and a half percent. So how can he say that this is a result of a low base? I think it is better for him to accept that all the economic reforms that have been implemented by this government has begun to yield good results and he will be pleasantly surprised going forward because this growth rate will be maintained," Kumar asserted.
(ANI)