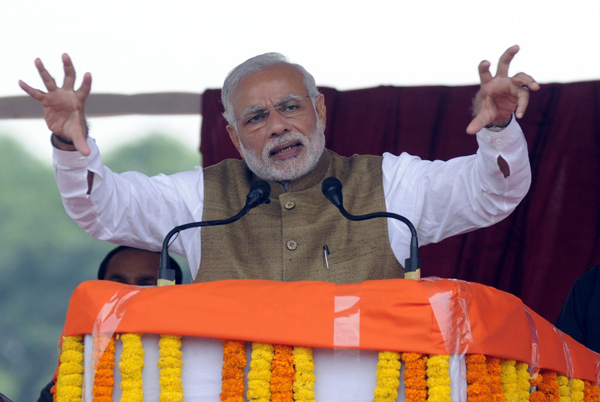 After facing a complete knockout in the Bihar elections, BJP seems to be on a course correction as the Modi led government has pushed for economic reform with Foreign Direct Investment in 15 key sectors.
The Centre is pushing for Foreign Direct Investment in 15 sectors including banking, pharmaceuticals, infrastructure, plantation, defence, broadcasting and construction.
This development comes ahead of PM Modi's trip to UK where he will try to push for his project 'Make in India' and will invite business leaders to invest in India.
Experts applaud the decision:
Hailing the decision, economist Lord Meghnad Desai was quoted as saying, "This will be important for economic reforms. It's good that government started early on reforms process."
Former Secretary at Ministry of Industry and Commerce Ajay Dua told news channels, "This is not a major reform but it is more than a routine reform. This will not bring a earth shaking change. I don't think there will not be a much change in health sector. Hopefully the FDI in construction will bring down prices of houses."
Finance Minister Arun Jaitley had said earlier that the defeat in Bihar elections will not impact the economic reforms process.
He had added that the government would continue with economic reforms by taking executive actions and also in the Budget, which would be announced in February next year.
On the specific question of the pending Goods and Services Tax (GST) bill, he had hoped that Bihar, which is a consuming state, would support the legislation.
"I don't see (Bihar election outcome) as a setback to the economy at all. If under Nitish Kumar, Bihar grows and grows well, we have already announced economic package for the state, certainly we are going to help.
"Our commitment is the states which need to develop more we have to help them more," Jaitley had said.
FULL TEXT: Here's what the government said about the announcement:
Today, India is the fastest growing economy among major Nations. The World Bank has improved India's ranking by 12 places in the 2016 Study of Ease of Doing Business. FDI has gone up by 40%. Several Global Institutions have projected India as the leading destination for FDI in the World. IMF has branded India as the brightest spot in the Global Economy whereas the World Bank projects India's growth at 7.5% and even better.
With coming of NDA Government to power, Narendra Modi has expressed his commitment to poverty elimination, inclusive development [make India a developed Country] and also to make India a Global Manufacturing Hub.
Being aware of the constraint of financial resources for fast tracking the development process, a series of Economic Reforms and a number of measures to improve the Ease of Doing Business in the country have been set in motion.
A number of stalled projects have been de-bottlenecked and fast-tracked. The results are showing up.
However, the commitments to the millions of youth of the Country to provide them remunerative employment or entrepreneurial opportunities is not yet fully realized. With this in mind, Modi launched the Campaigns like 'Make In India' and 'Skill India'. The latest in the series is the upcoming 'Start-up India' initiative.
To further boost this entire investment environment and to bring in foreign investments in the country, the Government has brought in FDI related Reforms and liberalisation touching upon 15 major Sectors of the Economy. The salient measures are:
i. Limited Liability Partnerships, downstream investment and approval conditions.
ii. Investment by companies owned and controlled by Non-Resident Indians (NRIs)
iii. Establishment and transfer of ownership and control of Indian companies
iv. Agriculture and Animal Husbandry
v. Plantation
vi. Mining and mineral separation of titanium bearing minerals and ores, its value addition and integrated activities
vii. Defence
viii. Broadcasting Sector
ix. Civil Aviation
x. Increase of sectoral cap
xi. Construction development sector
xii. Cash and Carry Wholesale Trading / Wholesale Trading (including sourcing from MSEs)
xiii. Single Brand Retail Trading and Duty free shops
xiv. Banking-Private Sector; and
xv. Manufacturing Sector
The Crux of these reforms is to further ease, rationalise and simplify the process of foreign investments in the country and to put more and more FDI proposals on automatic route instead of Government route where time and energy of the investors is wasted.
It is one more proof of minimum government and maximum governance. Further refining of foreign investments in key Sectors like Construction where 50 million houses for poor are to be built. Opening up the manufacturing Sector for wholesale, retail and E-Commerce so that the Industries are motivated to Make In India and sell it to the customers here instead of importing from other countries.
The proposed reforms also enhance the limit of Foreign Investment Promotion Board (FIPB) from current Rupees Three thousand crores to Five thousand crores.
The proposal also contains many other long pending corrections including those being felt by the limited liability partnerships as well as NRI owned Companies who seem motivated to invest in India.
Few other proposals seek to enhance the sectoral Caps so that foreign investors don't have to face fragmented ownership issues and get motivated to deploy their resources and technology with full force.
With this round of Reforms, the Government has demonstrated that India is unstoppable on the path of Economic Development. Prime Minister has reiterated that Economic Wellbeing of the people of India is the main Task before him.
It is also clear that India is a Country which is more than ready to integrate with the Global Economy because it feels that the Fruits of Development will reach to the common man only if there is Development. Above all every citizen in all nooks and corners must have a stake.
Along with these sectoral reforms, DIPP has also been advised to consolidate all FDI related instructions contained in various notifications & press notes and prepare a booklet so that the investors don't have to refer to several documents of different timeframes. This exercise of PM, Narendra Modi is intended on the one hand to further open up the Sectors for more foreign investments in the country and also to make it easy to invest in India. In the normal course, the Policy corrections in 16 areas would have taken at least one year to process and get approvals.
Thus, this action is a very dynamic step in terms of integrating the Indian Economy with the rest of the World for attracting investments and technology and generating employment for enhancement of income of the people of India.