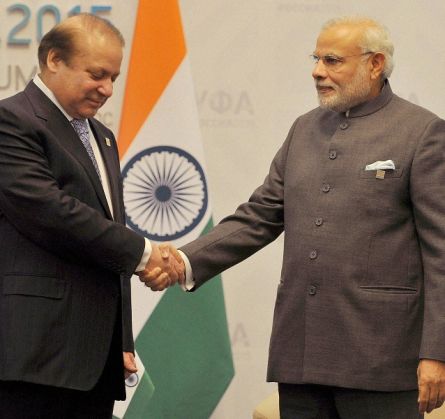 Pakistan had recently refused to grant India the \'Most Favoured Nation\' status for conducting trade.
Meanwhile, Exports from India to Pakistan reached almost $2.3 billion while exports from Pakistan to India were only $430 million from 2013 to 2014.
Surprise, surprise! Narendra Modi's latest diplomatic move included a surprise visit to Lahore on Pakistani PM Nawaz Sharif's birthday and a visit to the latter's ancestral home as well.
The impromptu meeting that was initiated by Modi during his speech in the Afghan Parliament has been in the works for a long time but was cancelled time and again before External Affairs Minister Sushma Swaraj visited Pakistan for 'Heart of Asia' conference.
As pointed out in this Tehelka article, Pakistan wants to conduct trade with India, despite all reservations. The army belligerently had conceded that business ties with India are of utmost importance, though the reasons may vary and be based on funding the ammunition barrel to fuel border skirmishes.
So, why does the meeting between two neighbourhood nations matter in business context? Catch takes a look:
There is no proposal under consideration to give India the Most Favoured Nation (MFN) status, Pakistan commerce minister Khurram Dastgir Khan had recently stated.
He said the "existence of a negative list was a clear indication that the MFN status had not been given to India", Dawn newspaper reported. Khan also said that since Modi government took over last year, no bilateral trade talks had taken place.
MFN has been in doldrums ever since 2011 as India has sought the status but Pakistan has refused to throw clarity on the status.
Under the WTO agreements, countries cannot normally discriminate between their trading partners. Grant someone a special favour (such as a lower customs duty rate for one of their products) and you have to do the same for all other WTO members. This principle is known as most-favoured-nation (MFN) treatment.
MFN would allow India, in principle, to enjoy lower tariffs and fewer trade barriers in its economic relationship with Pakistan.
Read: India-Pakistan: The Curious Case of the MFN Status
Trade:
Exports from India to Pakistan have reached almost $2.3 billion while exports from Pakistan to India were only $430 million from 2013 to 2014, according to the Indian Department of Commerce.
These numbers are lower than the potential for trade between the two, something think-tanks and experts believe it can help improve overall relations including the diplomacy related matters.
Some experts estimate that a normalized trade regime between the two nations could eventually send the figure soaring to $40 billion.
Special Economic Zone?
To aid India-Pakistan relations and improve bilateral ties, experts believe that a Special Economic Zone (SEZ) needs to be created for the region.
This zone would benefit industries from both countries that could help remove trade barriers.
The textile, automotive and pharmaceutical industries would be the most likely to benefit from such an economic zone, according to the report published in 2014 by Transnational Strategy Group.
The backdrop:
In 2012, intensified trade diplomacy between Islamabad and New Delhi yielded a range of achievements. Early in the year, Pakistan abolished its positive list of 2,000 goods that could be imported from India, and replaced it with a negative list of about 1,200 items that could not be imported (more than 500 of these untradeable items belonged to the automobile, iron, and steel sectors).
Islamabad pledged to eliminate this negative list entirely by the end of 2012, thereby bringing the two countries closer to a fully operational MFN regime, which however hasn't succeeded as mentioned by Woodrow Wilson center.
Conclusion: Trade with India is critical for Pakistan if it wants to develop its industries into economies of scale rather than closed sectors that rely on governmental help for sustenance. Only time will tell if the Modi-Sharif coup translates to business deals. After all steel magnate Jindal was present for a reason, right?