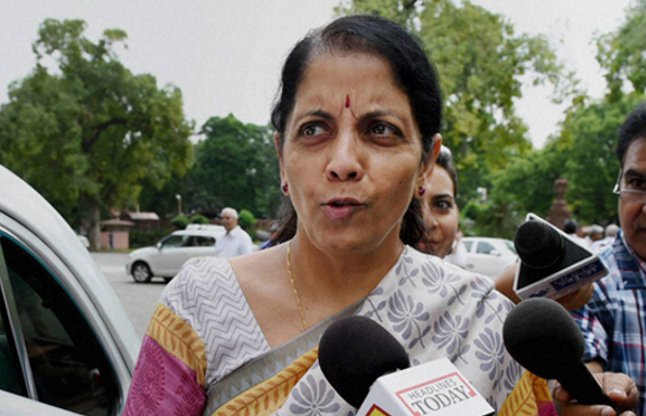 India will strongly pitch for a permanent solution for food security and a tool for developing nations to protect their poor farmers from sudden surge in imports at WTO's Nairobi meeting next week, Commerce and Industry Minister Nirmala Sitharaman on Thursday said.
Sitharaman said India "certainly wants" WTO's ministerial declaration to mention the special safeguard mechanism (SSM) to protect poor and marginal farmers from any surge in imports or steep decline in prices.
"I am going with an open and positive approach. If everybody has agreed on something in Bali, it should be our duty to deliver on that. And permanent solution was part of that Bali package," she told reporters here.
"Our wish-list would certainly be that we say no to the differential treatment... I certainly want SSM to protect (farmers) from any surge (in imports) that may happen. These two constitute my wish-list," she added.
On the new issues being pushed by the developed world including the US at the WTO's Nairobi meeting, the minister said India is ready only to discuss those matters.
"I do not want it (the new issues) to be a binding commitment. We are not averse to discussion," she said.
The new issues which are being pushed by developed world include investments, competition, labour, government procurement, environment and global value chains.
Sitharaman also said issues of the Doha Development Round was very important for all the developing countries, including India, and the WTO members should work towards concluding that round.
The Doha Round of negotiations launched in 2001 has remained stalled since July 2008 due to differences between the rich and the developing nations, mainly over the subsidies given to farmers.
On finding a permanent solution for food security, she said: "It has to be part of the (WTO's ministerial) declaration because it was agreed to in Bali." Commerce Secretary Rita Teaotia too said permanent solution, SSM and a package for least developed countries are the deliverables which India would expect from this WTO meeting.
The WTO ministerial meeting is scheduled in Nairobi in Kenya on December 15-18.
"The Doha Development Agenda is on the table. Let us harvest the important elements of that," Teaotia said.
On the new issues, she also said "we can identify those issues and try to make consensus on those after concluding the Doha round".
"We want to see the Doha round to come to a logical conclusion. New round without Doha is not acceptable," she added.
Elaborating, Sitharaman said: "It should give me a solution which gives me the freedom to give support to my poor farmers on a certain list of crops and it cannot be only rice and wheat."
She added: "Public stockholding is not new, peace clause is not new, Bali is not new... If you are talking about new issues, let us talk about it, but do not make it binding on me."
The list has about 22 items. India needs this because different states have different grain priorities.
She also said 1986-88 should be the base year to calculate the average price for subsidies.
For a permanent solution, India had proposed either amending the formula to calculate the food subsidy cap of 10 per cent, which is based on the reference price of 1986-88, or allowing such schemes outside the purview of subsidy caps.
"The Doha Development Agenda (DDA) contains very fundamental work that we would like to see to come to a logical conclusion. The agri subsidy is a big-ticket item on which there has to be some decision because there has been no progress," Teaotia explained.
On the trade facilitation agreement (TFA), the minister said a draft Cabinet note has been circulated for inter-ministerial consultation.
"We will deliver TFA. We have circulated a Cabinet note for inter-ministerial consultation. The moment the Cabinet gives its nod, we will ratify it," she said.
TFA is aimed at easing Customs norms and procedures to push global trade.
"I hope the ministerial declaration (of WTO in Nairobi) will certainly satisfy the majority of members because it's happening for the first time in an African country. So, I hope the ministerial declaration will address the outstanding concerns," she said.
Under SSM, the developed countries want developing nations, including India, to agree to the SSM instrument when imports surge on a sustained basis by 40% over the previous year while India insists that the mechanism can come into play if imports rise by about 10 per cent.
India is currently engaged in consultations with different countries on SSM.
Meanwhile, Additional Secretary in the Department of Commerce Arvind Mehta said the issue of market access for industrial goods has not been raised for the WTO meet.
-PTI