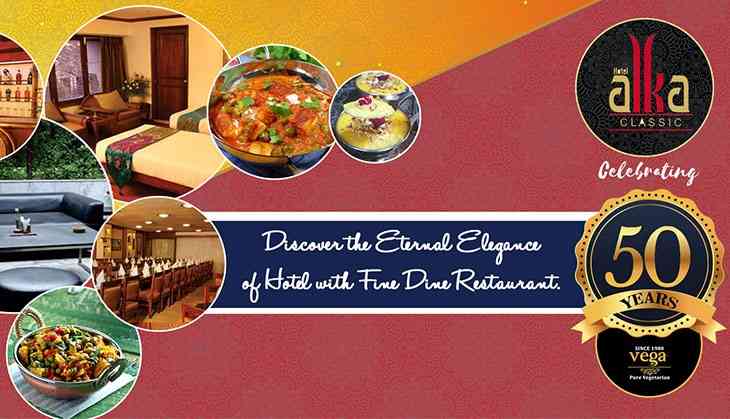 With its rich heritage of thousands of years –Delhi excels always –so also in food habits. Drawing inspiration from it, HOTEL ALKA CLASSIC brings you VEGA Restaurant, a delightful vegetarian haven which gives you more than just a delicious meal.
Established in 1982, VEGA brings you the fines art of Delhi's vegetarian cuisine, Experience a feast that is not only excellent but nutritious & tasteful as well.
There are numerus hotels and restaurants in and around the Delhi-NCR, but to capture the real essence of the vegetarian dishes and relenquish the meal, Vega restaurant has become one of the Best vegetarian restaurant in Delhi
Relish vegetarian dishes, cooked to perfection by our Master Chef. Every dish is Delhi's specialty with the appetizing aroma of original flavor because we don't use ONION AND GARLIC. Served in traditional Thali as well as a' la carte & the supreme token of friendship ….a paan.
Vega stays true to the finer subtleties of North Indian Cuisine, using only the finest, most fragrant, warmest spices delicately blended together in harmony with one another to prepare an assortment of gastronomic delights cooked the traditional way. Food is cooked, without onion or garlic, with only the freshest of ingredients, and promises to take you back to childhood memories of your grandmother's kitchen. The royal 'thalis' on the menu offer a five-course meal fit for a king or queen.
Additionally, be sure to try their Bherinvi Aloo with authentic chutney and their specially prepared Indian breads on offer – the Paratha Adrak and Paratha Hari Mirch are definite must haves. Traditional drinks like aam ka panna, jal jeera, thandai and chaach make for perfect thirst quenchers on a hot day.
The décor and attention given to detailing of the interiors promises an immersive experience with ancient articles from Rajasthan to old parts of Delhi. The walls are adorned with rich textiles of India right from the Indus Valley to the Mughal era. Food is still prepared according to secrets passed on from one generation to another and hours are spent in ensuring culinary perfection within kitchens. The earthy tones of its interiors warmly embrace you as you cross its threshold into a space where modern aesthetics meet traditional values and sensibilities.
Vega promises you an unrivaled eating experience and will have you coming back for more – a high level of craft and finesse combined with a passion for an authentic and wholesome experience ensures that simple dishes are transformed into a fine dining experience.