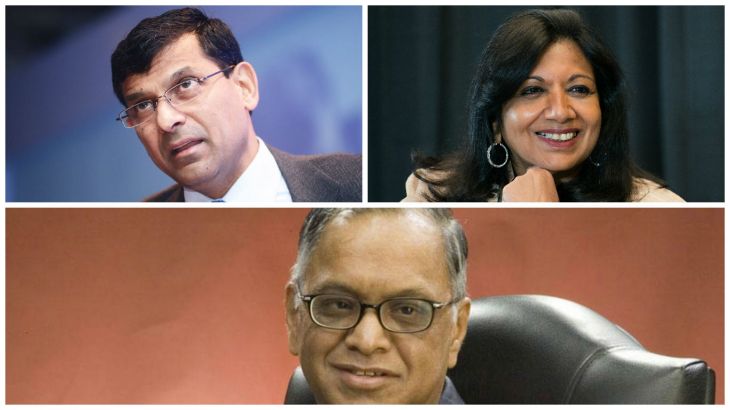 During the 2014 General Elections campaigning, Prime Minister Narendra Modi used the 'development' rhetoric to woo voters and received backing from business fraternity in India and abroad. But, of lately, as incidents of communal violence and sectarian clashes increase, more and more business leaders are rallying to criticise the government they once backed for being pro-reforms and development.
Read: Beef killing has a direct BJP hand: Anand Patwardhan
Amid growing protests against the current state of intolerance in India, numerous business personalities including Kiran Mazumder Shaw, Narayana Murthy and RBI chief Raghuram Rajan have come forward and spoken about the importance of maintaining communal harmony.
Raghuram Rajan:
Speaking at the convocation of IIT Delhi on Saturday, RBI chief Raghuram Rajan said that actions that physically harm anyone or show verbal contempt for a particular group, so that they damage the group's participation in the marketplace for ideas, should certainly not be allowed.
Read: RBI governor Rajan: tolerance breeds new ideas, and India needs those
Kiran Mazumder Shaw:
Rajan's statement received a thumbs-up from Biocon chairman Kiran Mazumder Shaw who said, "He is echoing growing voices that wants India to continue to be a liberal society."
Narayana Murthy:
Infosys founder N R Narayana Murthy on Friday, had condemned the current state of affairs in India and its implications on the Indian economy.
"I am not a political person, I am not at all interested in politics. But I sense there is a considerable fear among minorities in the country. There is considerable fear in the minds of people of one region living in another region. For example, like we had in 1967, when south Indians were treated very badly by Shiv Sena in Mumbai. Today, there is a lot of that worry. I get a lot of letters, a lot of people talking to me even though I stay at home because of my leg," Murthy was quoted as saying.
Advising the current government, he further said, "The priority of this government, or for that matter any government, both at the Central level and state level should be to bring back the confidence, the energy, the enthusiasm, the trust in the minds of every Indian... that this is our country, I have all the rights here, I feel safe and therefore, I will work towards the betterment of India."
Moody's analytics:
Murthy's statements had international backing as Moody's Analytics derided the Modi government for being non-committal to reining in communal forces. It stated that PM Modi needs to rein in communal forces lest he lose international and domestic confidence in his 'development' rhetoric.
Read: Rein in BJP members or risk losing global and domestic credibility, Moody's rating warns Narendra Modi
The report titled India Outlook: Searching for Potential said that the controversial comments from various BJP members may not just lead to a possible increase in violence but may also result in stiffer opposition for the government in the Upper House as debate turns away from economic policy.
Read: 10 film personalities who've returned their National Awards
Dozens of scientists, historians and filmmakers have spoken out against the vitiated atmosphere in the country. Leading names like Romila Thapar, Irfan Habib, KN Pannikar and Mridula Mukherjee had issued a joint statement raising their serious concerns over increasing incidents of communal violence and intolerance in the country under the BJP government.