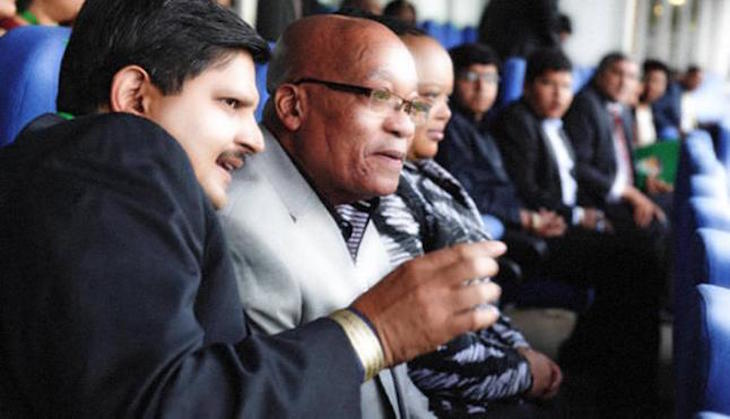 Pulling off a Vijay Mallya in South Africa, influential Indian-origin billionaire businessmen Ajay and Atul Gupta, along with their extended family, have reportedly fled to Dubai, amidst allegations of corruption. 
The family flew in a chartered plane which took off from Lanseria, according to reports in the South African press. The third Gupta sibling is based out of Dubai, a favourite of many businesses in the United Arab Emirates. According to a source known to the family, Ajay Gupta's son is getting married later this month and a three-day bash has been planned at a beach resort in Turkey.
The family empire, which has interests in information technology, infrastructure, finance, mining and so on, is under investigation for making billions of rands due to their proximity to Jacob Zuma, the South African President. 
Zuma's family shares a close association with the Guptas. One of Zuma's wives, Bongi Ngema-Zuma, used to work for the Gupta family-controlled JIC Mining Services as a communications officer while Duduzile Zuma, his daughter, worked as a director at Sahara Computers, their flagship firm in the African country. President's son Duduzane Zuma is a director at one of the conglomerate's companies. The Gupta brothers and Duduzane Zuma have now resigned from the boards of all the family-controlled companies, according to reports.
The About Us page of one of their flagship firms Oakbay Investments offers some insight into the extent of their business dealings. "Oakbay is a shareholder in a number of private equity investments and joint ventures, in various industries.  These industries include ICT with Sahara Computers, Mining with JIC Mining Services and Oakbay Resources and Energy, Media with The New Age Newspaper and ANN 7 News TV, Manufacturing with VR Laser Services and Leisure with Clifftop Lodge. The company also holds interests in the leisure and real estate, and owns a number of prime properties in locations such as Johannesburg, Durban, Cape Town and Rustenburg," the page reads.
Earlier, auditor KPMG, exchange sponsor Sasfin, and bankers FNB and Absa had snapped their ties with Oakbay, fearing reputational risks.
Hawks, a special South African police unit, is probing the family's businesses and their links with Zuma. African National Congress, the ruling South African Party, has also initiated investigations into the murky dealings of the Guptas. The ANC had earlier voted down a proposal to impeach the President who is facing charges of offering the Gupta business empire sweetheart deals at the expense of the State.
The recent controversy, which has since snowballed into the biggest political crisis the African nation has faced in recent times, began after complaints from Deputy Finance Minister Mcebisi Jonas and veteran MP Vytjie Mentor. Both claimed that the Guptas offered them promotions into top jobs in Zuma's cabinet provided they agreed to help promote their business interests. Both the politicians claim to have turned down the offer.
Guptas and their many political friends in India
In 2013, a chartered plane from India with 217 people on board landed at the Waterkloof Airforce base in South Africa. The guests, who were ferried from India to attend the wedding of Ajay Gupta's niece, included Samajwadi party leaders Shivpal Singh Yadav and Azam Khan among others. Reports of the incident created a furore once it was found that the jet landed at the sensitive Airforce base after permission from the President Zuma's office.
That was perhaps the first time the Guptas hogged headlines in the domestic press in India.
Son of a middle-class businessman, Ajay Gupta moved to South Africa in 1993 to look for business opportunities. According to reports, he soon cultivated a relationship with the political elite which helped him acquire mining leases and other concessions. His brothers joined him in 1997.
The family also entered the computers business with a company which was rechristened as Sahara in 2000, a name which many say, was an ode to their hometown Saharanpur. Sahara Computers is said to be one of the biggest computer firms in the South African country. and also has naming rights at Durban's Kingsmead oval and Cape Town's St George's Park, two of South Africa's major cricket stadiums. It is said that the family had an important role to play when South Africa hosted the Indian Premier League.
The family, which has no major business dealings in India, is seemingly close to a lot of Indian politicians cutting across party lines. Their family weddings have had many of them on the guests list, according to reports.
"They have brought money from their sources, the Indian sources, into the country," Jagdish Parikh, a close associate of the Gupta family and a senior official in their investment vehicle had told Business Day, back in 2011. Perhaps, this may hold a clue to their phenomenal rise.