Zero-sum game: Taxing diesel to bridge fiscal gap makes everything costlier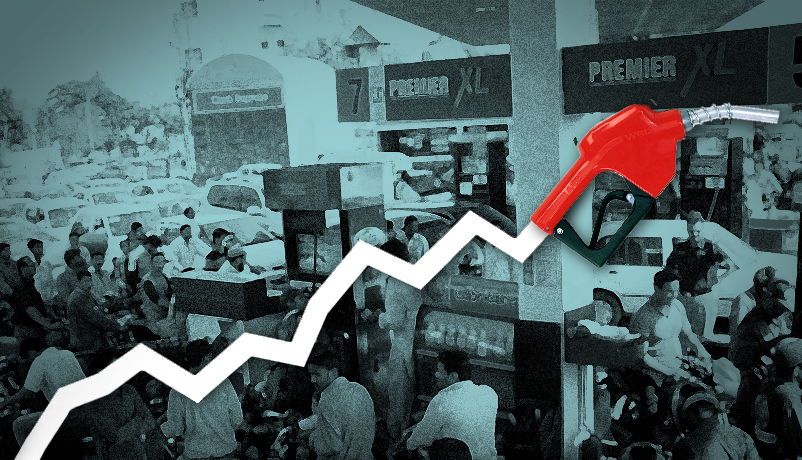 Costlier fuel
Excise duty on petroleum products have gone up 6 times since Nov 2014
High duty has ensured consumers don\'t benefit from low international oil prices
Centre\'s argument
Govt needs money to bridge fiscal deficit, fund development work: Finmin
But this will lead to increased retail inflation
More in the story
Why Jaitley\'s economics is not all good
How the common man is affected
In October 2014 the NDA government took a bold step to deregulate diesel prices in India. The move will allow diesel prices to move according to market conditions, the government said.
The announcement was followed by a Rs 3.50 reduction in pump prices to reflect the reduction in international oil prices.
Also read - NGT's diesel car ban hurts the industry. But will it curb pollution?
"Over the last five years, prices of diesel has significantly gone up. But given the crude price today, diesel and prices would stand to be reduced after being market-linked," Finance Minister Arun Jaitley had said, announcing the first price cut since January 2009.
Has Jaitley kept that promise? Not at all.
In October 2014 crude oil was sold at round $82 per barrel. In Delhi, diesel was cost Rs 55.60 per litre. Since then crude prices have slid 57%; diesal prices here, however, is Rs 46.09 per litre - a mere 16% reduction. Petrol prices have falen only 10%.
Where then is the money going?
Between November 2014 and December 2015, the Centre increased excise duty on petroleum products six times, mopping up over Rs 28,000 crore. On 16 December, the government raised excise duties by Rs 0.30 on petrol and Rs 1.17 per litre on diesel.
Modi sarkar's logic: It wants to use the money for development work. "Benefits were being passed on to the consumer, but the money is also needed to be used for development work," Jaitley told Parliament on 16 December.
"The states are getting 42% of this excise. Over and above that, every state has VAT (value-added tax). We are not complaining because states also need money - a part of benefit goes for development work. We use all money for national highway and rural road," Jaitley said in a high-voltage speech.
The finance minister also said this year he would meet the fiscal-deficit goal without spending cuts. Should we agree with this style of economics?
Yes and No.
Yes, if you are concerned about the fiscal deficit of the country and no if you belong to the middle class dealing with high food prices..
Fiscal deficit is the difference between a government's expenditure and revenues. Several economists are happy that due to the windfall gain to the government in the form of low crude oil prices, India would be able to meet its fiscal deficit target (3.9% of GDP).
" Windfall gains to the government should not be passed on for retail consumption. They can be kept for improving the financial health of the economy and investing in infrastructure. Whenever the price of crude oil goes up, the government can reduce the excise duties and keep the price of petrol and diesel at current levels," said Rajiv Kumar, an economist with Centre for Policy and Research.
A senior consultant with an international brokerage firm also found the government's policy right in the wake of lower revenue generation from disinvestment and other sources: " The government needs money and there is no harm in raising money by keeping price of petrol and diesel where they are. Later on whenever the price of crude oil goes up, the government can reduce these taxes."
However, Opposition parties are against the government strategy to mop up revenue by taxing crude oil prices. In the first week of December, they had moved a statutory motion in Rajya Sabha to attack the Centre for increasing the excise duty on petrol and diesel.
Jaitley's dilemma
It is important that the government reduces fiscal deficit while crude oil prices are low internationally. But by doing this the government has lost the moral right to raise prices when crude becomes expensive in the future.
Crude oil prices have remained low for some time now. After trying for more than a decade a government could take the decision to de-regulate diesel prices completely. Clearly, future governments will be forced to take up the burden of higher crude prices.
Another mistake of Jaitley is to keep petroleum prices out of the debate) artificially high. Diesel is used by railways, trucks and commercial vehicles to transfer goods and vegetables. The cost of diesel directly affects prices of other products.
Also read - Diesel disaster: the Volkswagen fiasco explained in 8 questions
Had Jaitley followed a nuanced approach and lowered the price of diesel more, compared with petrol which is consumed mostly for personal use, the government could have brought down retail inflation and increased the purchasing power of people.
Retail inflation touched a 14-month high of 5.4% in November on the back of costlier food items. Jaitley knows very well that high food inflation means a delay in interest rate cuts by Reserve Bank of India governor Raghuram Rajan, whose mandate is to keep retail inflation low.
Deal with it
Going by the current economic situation, Jaitley is not like to pay heed to the Opposition's demands. For him managing fiscal deficit without having to resort to expenditure cuts is more important than appeasing the Opposition parties.
In case the price of crude oil in the international market declines further, Jaitley would not even mind going for another excise duty hike.
Petroleum products have always been a source of high revenue for the central as well as the state governments. This is why in the proposed Goods and Services Tax, the government wants to keep petroleum products outside the ambit of centralised tax regime.
So to say petroleum prices are de-regulated in the country is just a hogwash.
More in Catch - Stop asking RBI to cut rates Mr Subramanian. Arrest food inflation first
The big GST question: Why should I foot your bill?
Lost jobs, shut factories: India's dark export story