Will investors' meet shore up UP's fortune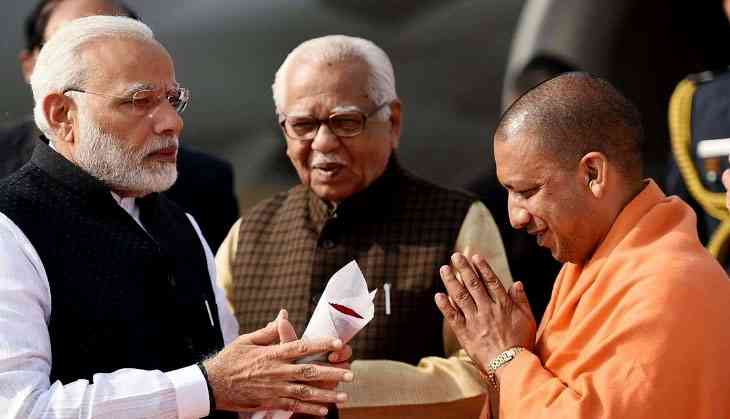 Uttar Pradesh joined states like Gujarat and Maharashtra where corporate honchos loosened their purse strings by signing Memorandum of Understanding to invest Rs 4.28 lakh crore to help the Yogi Adityanath government transform Uttar Pradesh.
The summit has given the BJP a leg-up before the 2019 Lok Sabha elections. The party having failed to create jobs as promised in 2014 and 2017 can now talk of lakhs of jobs in the next three years. "Voters can always be lulled into believing that this time they won't be fooled," said a former professor of Lucknow University.
The sheer scale of the UP Investors Summit held in Lucknow on February 21 and 22 put into shade similar exercises undertaken by Mulayam Singh Yadav in 2003 and by Akhilesh Yadav between 2012 and 2017. Even in terms of proposed investments, this was the biggest ever summit for UP. What has to be seen is if actualization of these MoUs is also more than those in the previous governments.
As corporate czars led by Mukesh Ambani and Gautam Adani spelt out the quantum of money they planned to invest in different sectors, they did not forget to laud Prime Minister Narendra Modi for his leadership qualities and stature among world leaders.
That they were all here because of Modi and his cabinet was obvious. First Anand Mahindra and later Harsimrat Kaur said that they have a strong Lucknow connect as the former's mother having taught history in a prestigious women's degree college here, while Kaur had spent her younger days in the state capital.
Yet their involvement in the state's growth so far has been minimal. As food processing minister she did little for UP until the opening day of the summit when chairing a session she disclosed that the Centre had cleared Yogi government's proposal to set up food parks in Gautam Buddh Nagar, Mirzapur and Mathura.
Anand Mahindra spoke of his investment in Dial 100 with the promise of creating a tourist property worth Rs 200 crore in Varanasi. He made a conditional offer to set up electrical vehicle manufacturing unit in the state if the government was supportive of the idea.
A summit of this scale would not have been possible without the active support of the central government.
Besides the Prime Minister, almost the entire Union cabinet was present at the event. These included Home Minister Rajnath Singh, Finance Minister Arun Jaitley, Defence Minister Nirmala Sitharaman, Law and Justice Minister Ravi Shankar Prasad, Textiles Minister Smriti Irani, Tourism Minister Mahesh Sharma, Suresh Prabhu, Piyush Goyal and others. The PSU investments proposed were around Rs 79,000 crore.
Even as the imprint of Vibrant Gujarat was written all over UP Investors Summit at the Indira Gandhi Pratishthan, the venue, the question being asked was, how much of this Rs 4.28 trillion of promised investment will materialize. Subhash Chandra, Chairman of the Essel Group, gave an idea of how UP's bureaucracy works.
Under the previous government, Subhash Chandra said, he signed MoU for investing Rs 30,000 crore of which less than Rs 3000 crore actualised.
Chief Minister Yogi Adityanath assured the investors that he would be personally monitoring the implementation of MoUs through Nivesh Mitra, the single-window clearance mechanism which was launched by the Prime Minister.
The 20,000 crore worth of defence production corridor from Agra to Chitrakoot was one of the high points of the summit for which Adityanath expressed his gratitude to the Prime Minister.
Mukesh Ambani wanted a role in Prime Minister's Namami Gange project to clean the Ganga, while Tata Consultancy Services promised to set up a Centre in Varanasi.
Although it came in for praise from many of the corporate heads and some Union ministers, bureaucracy in UP is generally perceived to be corrupt and slothful. Its role would be critical in the realization of these MoUs.
A sceptical Congress leader said, "Let us wait and see how much of this gets translated into reality. Bharatiya Janata Party leaders are known more for their jumlebaazi than keeping promises. It may not work with the electorate this time."