The nation wants to know answers to these questions about Arnab's Republic
Arnab "The nation wants to know" Goswami is getting a television news channel of his own and it will be called Republic. The news broke on 15 & 16 December, on The News Minute and Newslaundry. What these reports failed to mention (or just didn't check) is that Goswami's team has launched on LinkedIn and is looking to hire.
The tagline reads, "Join Republic. Join the Revolution". The title of the LinkedIn account is 'Republic World' and the email address is [email protected]. So what is left a mystery to avid viewers of Goswami is the name of the channel. Maybe the news channel will indeed be called Republic, but the channel opted for Republic World because Republic is already taken online.
However, there isn't a single mention of the LinkedIn page in the media, on Twitter or even on Facebook. With such a big name, soon to launch his own venture, this blind spot is strange. Did no one find out about the page, that has just 112 followers as of 29 December? Is the low following indicative of a lack of interest in being part of Arnab's latest foray?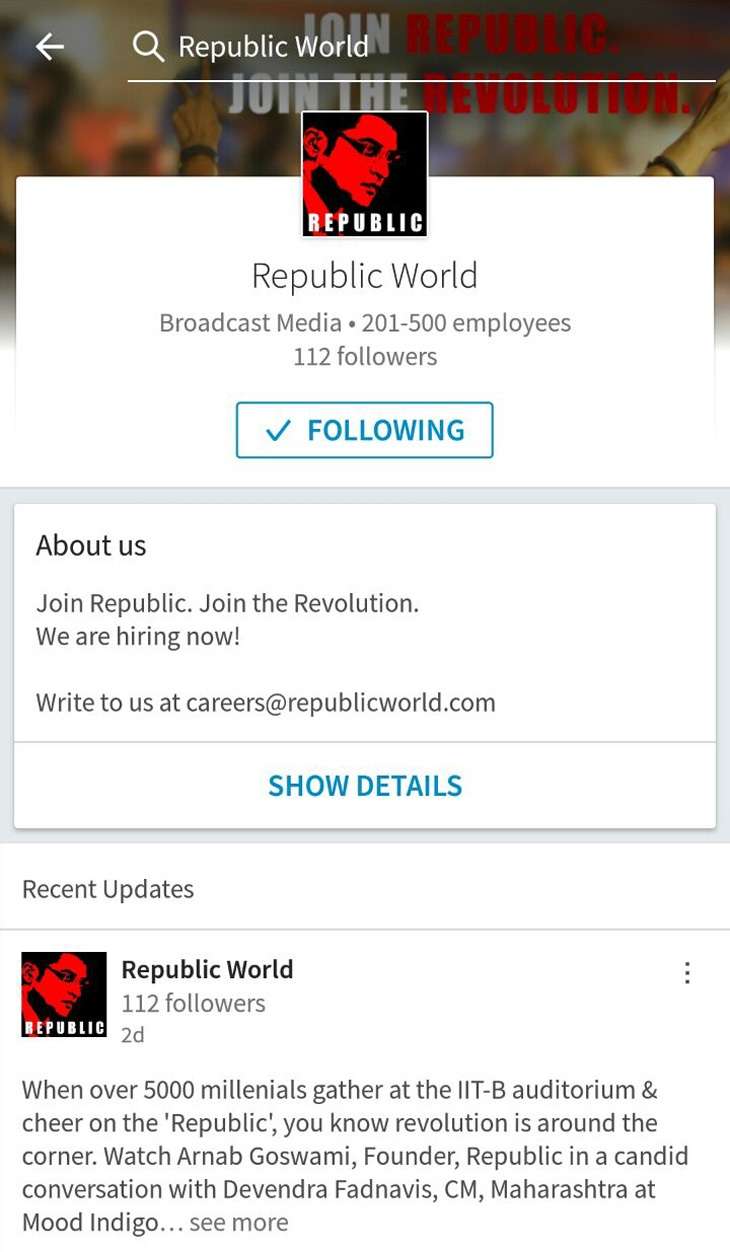 With just a month to go till the launch, at least according to rumours that it is slated to launch before the Uttar Pradesh elections, a few questions are left unanswered.
Arnab @ArnabGswm will come with his new channel #Republic by 26th of January, 2017

— Angurlata Deka (@Angurlata) December 25, 2016
The curious case of the website
The website Republic World leads to a '404 not found' page.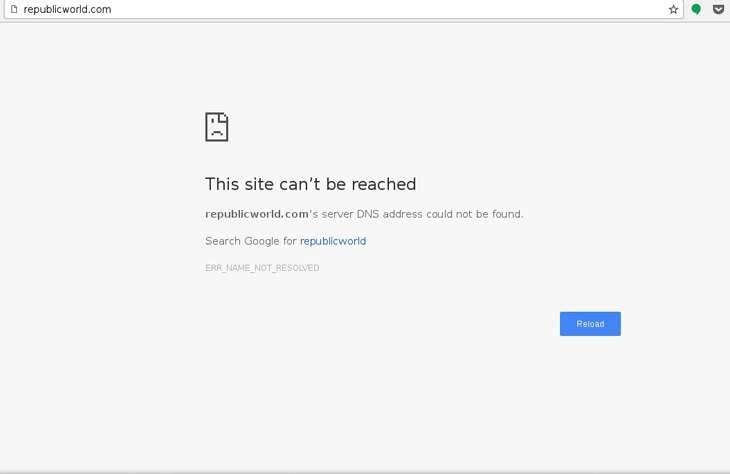 Looking up the domain registration info and one notices that it was first registered on 24 September, 2009 and is for a period of nine years. It was last updated on 23 December, 2016.
The website's IP location is 'Massachusetts - Burlington - The Endurance International Group Inc.'. It was registered in Scottsdale, Arizona. Clearly Goswami's team hasn't bought over the domain yet. One wonders just how much the domain owner would be able to ask for, if he/she was to sell.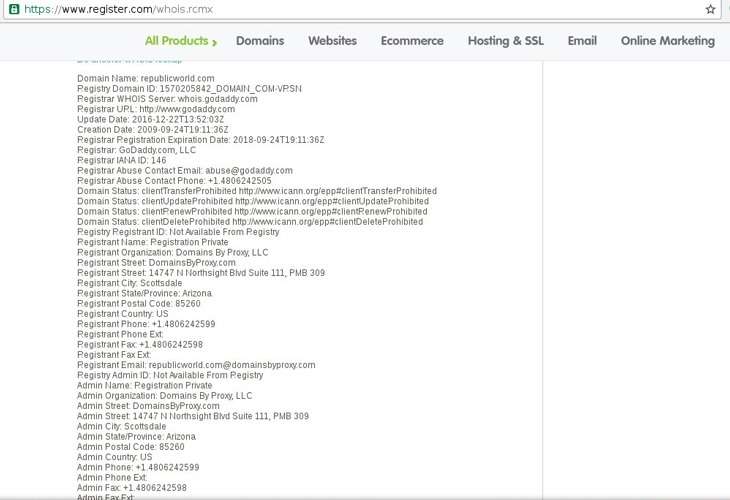 Coming to the .co.in version of the website, the domain was registered in Mumbai, Maharashtra on 22 December, 2016 for just a single year. The email address is also very strange: [email protected]. The website is registered with domain registrar and web hosting company GoDaddy. The email address is of Yaajman, a web hosting and domain name service provider.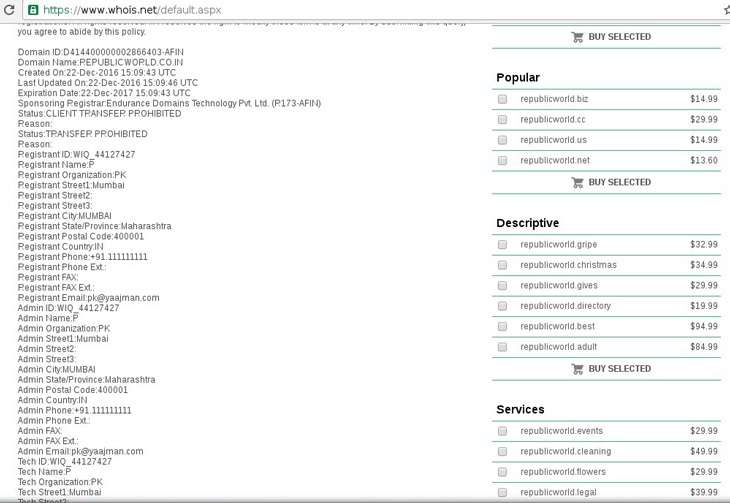 With the channel reportedly being primarily based out of Mumbai, this makes sense.
The people behind the channel
On 18 December, Harsh Goenka, Chairman, RPG Enterprises, made a curious tweet.
I hope you know who owns the largest Pai in the shareholding of Arnab's #Republic !

— Harsh Goenka (@hvgoenka) December 18, 2016
It was obvious who he was referring to - Mohandas Pai, head of Aarin Capital Partners. At first Pai denied the rumours he was investing in Goswami's channel and then said he was a 'small fish in the pond'.
Arnab Goswami's new venture is called Republic.I heard one of d financer is Rajeev Chandrashekhar.BJP Mp and Vice Chairman of NDA in Kerela.

— zishan haider (@zishanhaider) December 15, 2016
@rajeev_mp heard Arnab starting channel REPUBLIC. Rumors floating you are part of this venture. Respect your privacy but delighted if u r .

— Arun Mehra (@aumarunmehra) December 16, 2016
@navinkhaitan @TVMohandasPai I think @rajeev_mp is the majority investor in #Arnab's #Republic TV Channel

— ramesh sharma (@rameshfilms) December 18, 2016
All rumours point towards Rajeev Chandrashekhar, Rajya Sabha MP from Karnataka, being the other shareholder in the venture. Whoever the largest stakeholder in the company is, what seems to be the case is that all the investors are Indian, fulfilling Modi's 'Make in India' dream.
"Independent media is going to thrive," Goswami repeated many a time between his resignation and announcement of his new channel. We shall see from Republic Day just how 'independent' this channel is. Will it be free of the ruling party's hold, will Goswami's trademark histrionics set it apart from its competitors or has Goswami's magic finally worn off?