Some good news before the Budget: GDP growth increases to 7.6%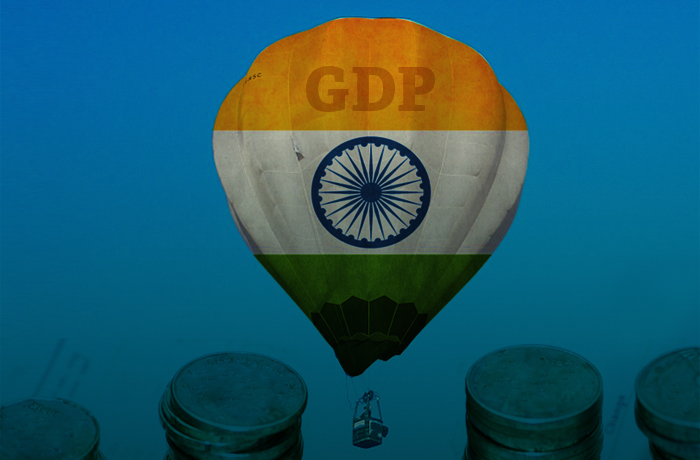 The Indian economy is on the move. The latest data released by the Central Statistical Organisation on India's Gross Domestic Product pegs growth at 7.6% (at constant prices) as against 7.2% in 2014-15.
CSO data pegs India's GDP growth at 7.6%, up from 7.2% in 2014-15.
The latest indicator of economic growth, which looks at the Gross Value Added (GVA) at basic prices (which means GDP minus taxes and subsidies on products) is pegged at 7.3% in 2015-16 as against 7.1% in 2014-15.
Also read: 9 key expectations from Union Budget 2016
This data released by the central government suggest a bright future for the economy. However, there are some challenges in a few sectors that are slowing down - agriculture, financial services, real estate, electricity and water supply. And most importantly, growth has decreased in the third quarter compared to the previous one.
GDP growth during Quarter 3 in 2015-16 (October-December) as per constant prices of 2011-12.
This is lower than 7.7% growth during Quarter 2 ( July-September).

This number broadly includes performance of various sectors like transport, communication, corporate, agriculture and manufacturing.

Significantly, GDP is estimated to reach Rs 113.51 lakh crore in 2015-16 as against revised estimate of 105.52 lakh crore of 2014-15.

The economy is slated to do better than last year, but going by Q3 figures, there has been a downturn in the last few months.

It must be noted that GDP measures economic growth and investments but not important indicators like environment, poverty or the unorganised sector.
Also read: #NotesForMrJaitley: how to make this year's budget more farmer friendly
GVA added in the economy across various sectors, according to Q3 estimates.
This estimate is lower than the figure of 7.5% growth recorded in Q2.

Agriculture, which engages about half of India's population, saw negative growth of -1% in Q3, as against 2% in Q2. This seems to be the impact of successive droughts and decline in production of foodgrains.
[twittable]Agriculture witnessed negative growth in the third quarter of 2015-16 due to successive droughts[/twittable]
GVA in financial, real estate and other professional services has also declined from 11.6% in Q2 to 9.9% in Q3.

However, it is anticipated that GVA will grow at 7.3% in 2015-16 as against 7.1% in 2014-15.
Also read: #NotesForMrJaitley 2: Let Raghuram Rajan clean up the bad loan mess
Estimated GVA growth of manufacturing sector in 2015-16.
In 2014-15, this sector was growing at 5.5%.

Surprisingly, the manufacturing sector grew at 12.6% during Q3 in 2015-16. This is a huge jump from 1.7% that was recorded in the third quarter of 2014-15.

So if investments and hiring taking off, perhaps it means that Prime Minister Narendra Modi's Make in India initiative is working.

Interestingly, a recent Asia Nikkei survey revealed that the manufacturing sector was rising due to new business influx from within the country and abroad.
"The direction of the numbers is very positive. The policy and reform measures the government has undertaken in the last one-and-a-half years are beginning to show results," said economic affairs secretary Shaktikanta Das.
This growth estimate weeks before the Union Budget provides a glimmer hope, especially for the manufacturing sector.
However, the negative growth in the agriculture sector is a cause of concern. There is also need to put a caveat on these growth figures given the controversial decision to change the base year from 2004-05 to 2011-12 . Even the RBI Governor Raghuram Rajan had raised questions over the credibility of the data.
So the GDP growth figures need to be seen with cautious optimism.
Also read: Reading the tea leaves: Will Modi rejig his Cabinet before the Budget Session?