Mukesh Ambani declares war with Reliance Jio's super cheap data rates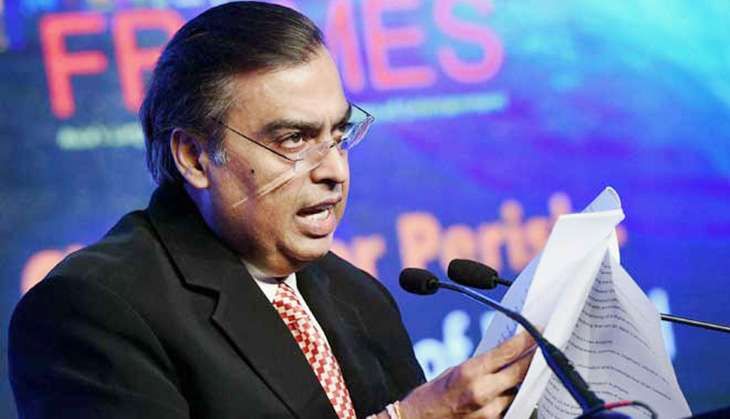 Sounding the bugle for a full-fledged telecom war, Mukesh Ambani-owned Reliance Jio is all set to take on the rest of the industry that includes players like Airtel, Vodafone, and Idea among others. On Thursday, the chairman of the company announced that they will offer the cheapest data prices in the country.
Mukesh Ambani's hour-long speech at Reliance Industries Annual General Meeting cost the incumbent telecom operators Rs 13,800 crore as shares of rival telecom companies such as Bharti Airtel, Idea Cellular, and Anil Ambani-owned Reliance Communications nosedived up to 9%, according to Economic Times.
After months of speculations and trepidation on the part of the rivals about the strategy that Reliance Jio would use, Mukesh Ambani said on Thursday:
Reliance Jio will not charge for voice calls or for roaming calls within India

Reliance Jio's data prices have been kept at Rs 50 per GB (gigabyte) as compared to Rs 250 being charged so far for 3G services by other operators.

Jio will also be offering free SMS services on all days of the year - unlike other countries that practice blackout days - occasions like Diwali when free SMS offers are not applicable.

Jio subscribers will not have to pay any charges for using services till 31 December.

Under a special student discount scheme, students to get 25% more data on producing a valid student identity card. A peak download speed of up to 135 MBPS will be provided on the Jio network.

4G-enabled smartphones to be launched at Rs 2,999 under its LYF brand.
Comparison with competitors.
Country's largest telecom operator, Airtel on Wednesday had made similar announcements.
Airtel has cut its data prices by 80% and is now offering a new 'mega saver' pack which would be available at Rs 1,498.
Under this plan, customers will get 1GB of 4G or 3G mobile internet usage that will be valid for 28 days. Post the exhaustion of this data, customers will get an additional 1GB of data for Rs 51, which is lower than the Rs 259 data pack that the company had on offer till last week.
Airtel has also deployed new 4G technologies in Mumbai that will deliver a speed of up to 135mbps to the existing Airtel 4G users. Airtel said that it would be able to deliver the high-speed 4G using carrier aggregation technology.
"Under the carrier aggregation deployment, the capacities of TD-LTE (2300 MHz spectrum band) and FD-LTE (1800 MHz spectrum band) have been combined to enable better spectrum utilisation and efficiency. In February 2016, Airtel deployed India's first carrier aggregation in Kerala and the network achieved 4G data speeds of up to 135 Mbps on commercially available mobile devices," said the company spokesperson.
UK-based Vodafone and Aditya Birla Group-promoted Idea Cellular have also floated similar tariff plans for the use of 4G networks.
However, it would be interesting to see whether Reliance Jio offers a Rs 51 per GB 4G data in a bundle to keep the total per month billing of consumers high or allows customers to use data at such prices with their existing plans.
Until December, the Reliance Jio consumers are eligible to use unlimited data as a part of the trial pack.
Edited by Jhinuk Sen