Jagdish Bhagwati's call to abolish IMF is a reminder of why he can't be taken seriously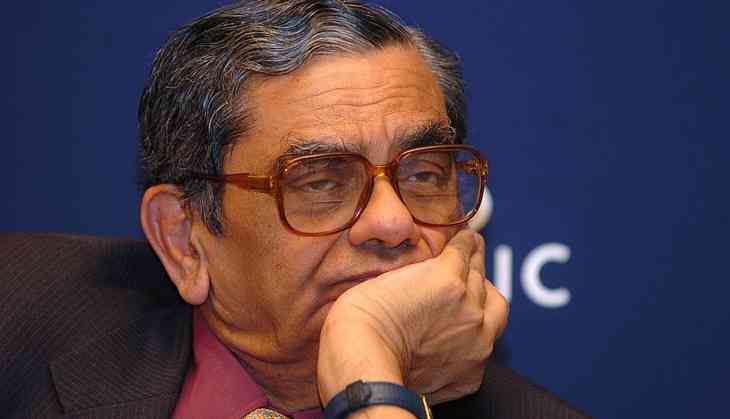 (Adam Berry/Bloomberg/Getty Images)
Jagdish Bhagwati is a known name in the world of economics. He was once a prominent trade economist vying to get a Nobel prize for his research in this field.
But today, Bhagwati is known less for his research in the realm of international trade and globalisation and more for his illogical remarks and squabbles against anyone who questions the policies of Prime Minister Narendra Modi.
Most recently, Bhagwati criticised the International Monetary Fund (IMF). "IMF should be abolished. They consistently make terrible forecasts," Jagdish Bhagwati said in an interview to a news channel in New York.
A reactionary tale
The reason behind Bhagwati's remarks is that the agency has cut its economic growth forecast for India for the current fiscal by 50 basis points to 6.7%. Not just this, for next year, too, the forecast has been revised downward by 30 basis points to 7.4% due to the lingering effects of the disruption caused by demonetisation and transition costs of Goods and Services Tax (GST).
It is important to know that the Reserve Bank of India, too, recently pegged India's growth rate for the current fiscal at 6.7% and blamed demonetisation and Goods and services tax for the downward revision in its forecast.
Economists all over the world have lashed at IMF and even World Bank for various reasons. While some criticise the policies of IMF for favouring the first world countries over the third world, others lambast the institution for forcing the countries to stick to harsh fiscal consolidation targets, which often leads to job cuts.
But not one person so far, other than Bhagwati, has ever called for the IMF to be abolished for making a faulty growth forecast.
Why Bhagwati is miffed
Bhagwati was one of the very few economists in the world who supported demonetisation in India. In an analysis published in Mint, under the title 'Demonetisation fallacies and demonetisation math', he suggested that rendering Rs 15 lakh crore worth of currency illegal overnight will give the government a windfall gain of at least Rs 2 lakh crore. He had also assumed that demonetisation will not hit India's growth.
Over the months, it's not just that theory which has fallen flat, as the RBI received 99% of the the old currency back in the system, but India's growth rate has also taken a massive hit. India's growth in the first quarter of the fiscal 2017-18 was recorded at 5.7%, a far cry from India's target of above 8% growth that looked achievable till 2015.
But when an economist pitches himself more as an ideologue than a researcher, facts are the first casualty. This is why, Bhagwati's remarks over the years are more of rhetoric and meant for public squabbles.
In March this year, Bhagwati had said "Amartya Sen (India's only Nobel laureate in economics) and his friends who argued that demonetisation would hurt growth, have been humiliated and exposed as much as the Congress". Bhagwati was ecstatic when the BJP registered a thumping victory in the Uttar Pradesh assembly elections Pradesh that were conducted just after demonetisation was unleashed.
It is understandable to see a politician justifying demonetisation on the basis of electoral victory in a state assembly. He knows it very well that on ground more than economics it is rhetoric, religion and caste engineering that matters.
But when an economist of repute makes similar statements to hit at government critics, overlooking 1.5 million jobs losses, a considerable decline in economic activity in the country visible through lower industrial output and other indicators, it is time to stop taking him seriously.