FDI in food retail; will BJP ditch small traders?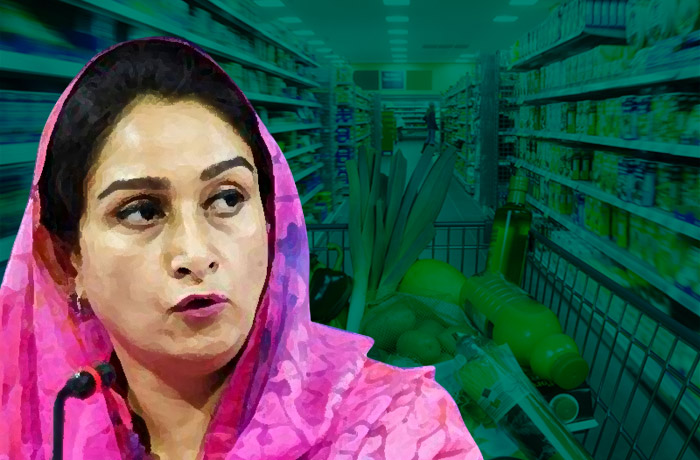 The proposal
Food processing minister Harsimrat Badal sought 100% FDI in food retail
Govt is reportedly considering the proposal
How is it now
Currently 51% FDI is allowed in multi-brand retail
Food and groceries form the biggest chunk of the biggest chunk of the business
More in the story
What will the political ramification be?
Union Minister for Food Processing Industries Harsimrat Kaur Badal has reportedly been lobbying for 100% foreign direct investments (FDI) in multi-brand food retailing. And the idea is being considered seriously.
Investment by foreign firms in multi-brand retail has been one of the most contentious economic issues in the last decade. Amid steep opposition, the erstwhile UPA government cleared 51% FDI in multi-brand retail in 2012.
Read: Why easing FDI norms could sound the death knell for #MakeInIndia
Apart from the Left, the opponent then included the Bharatiya Janata Party (BJP), now in power.
The issue haunted the UPA in the run-up to the 2014 Lok Sabha election. The BJP promised to scrap the policy if it would come to power - a good campaign strategy, given the strength of the lobby against FDI in multi-brand retail. Nearly 22 crore people are employed by small-time domestic retailers.
Once in power, however, the BJP-led government decided to continue with the policy despite criticism from top party leaders. And now, reportedly, the government is seriously considering Badal's demand and may frame the rules in the coming months.
The BJP had earlier defended it U-turn, saying a reversal of UPA's policy would hurt investors' sentiments.
"Our political stand is clear," Finance Minister Arun Jaitley said last May. According to him, the party didn't favour FDI in multi-brand retail. "The Department of Industrial Policy and Promotion has only maintained its existing policy."
So, what's cooking?
The debate around FDI in retail so far recognises only two formats: single-brand retail and multi-brand retail.
Single-brand retail includes companies such as Adidas, IKEA and Samsung, who sell only their own products. Multi-brand, on the other hand, isn't restricted to selling the ware of a particular company. The flag-bearer of this format internationally are Walmart, Carrefour, Metro etc.
Govt may want to project food retail as a distinct form, but it will be difficult to convince RSS
Multi-brand food retail is not a separate format. But food brings in the highest revenue in retail. Food and groceries make up for 69% of the Rs 25 lakh crore retail market, according to research firm Crisil.
Which means, if the government allows 100% FDI in food retailing, it will give multi-brand retailers access to the biggest retail category.
This can make the whole thing politically sensitive: Small traders - part of the BJP's core vote bank - may fell threatened.
The implications
Letting in cent per cent FDI in food retailing will face resistance from various lobbies including farmers, the food processing industry as well as food retailers, said Ajay Dua, former secretary to the Department of Industrial Policy and Promotion.
Also read- FDI in retail: why the Modi government's policy is baffling
It has happened in the past and there's no reason for such opposition to not surface again. Even domestic food retailers running super markets and vegetables chains have faced resistance from small traders: in 2007, three Reliance Fresh food outlets were vandalised in Ranchi.
Resistance against domestic food retailers have vanished over the years as they didn't make a big-enough dent into the business of small retailers. But the likes of Walmart, Tesco and Carrefour are still seen as a major threat as they have deep pockets to discount heavily for a long period.
The game plan
Indian governments have taken a gradual approach in opening up the retail sector to FDI. The initial policy of allowing 51% foreign funds into multi-brand retailing required food retailers to source 30% of their products from the domestic market. But in 2013, the UPA government relaxed that norm through an executive order.
Still, such measures have not enthused big retailers of the world to invest heavily in India.
Current policy hasn't exactly lured the global retailers into betting big on India
According to Rohit Bhatiani, a director at Deloitte, the biggest problem in allowing FDI in food-only stores would be margins. "Revenue in food retailing may be high, but margins are low. Opening up only food retail may not make sense for the companies."
Harish Bijoor, a retail expert, said global retailers would want to own back-end operations of their retailing business as their business would become profitable only then. "This means the government will have to allow contract farming, warehousing ownership as well as delivery chains."
RSS vs the government
Rashtriya Swayamsevak Sangh, the BJP's ideological fountainhead, has opposed multi-brand retail. Retail involves one of its big support base.
The government may want to project food retail as distinct from multi-brand retail that includes clothes, electronics and other household items, it will be difficult to convince the RSS.
It will be interesting to see how the Congress and other opposition parties react. In power, the UPA was a staunch supporter of FDI in multi-brand retail. But the tables have turned.
Edited by Joyjeet Das
More in Catch:
Should Jaitley loosen the purse strings? Here's what economists think
As Hollande comes calling, time for Chandigarh's reality check
Pull up your socks Maharaja: Air India is being a laggard
The extreme, crazy world of Keirin: bicycle racing without brakes