General Motors to stop selling cars in India. Blow to 'Make in India'?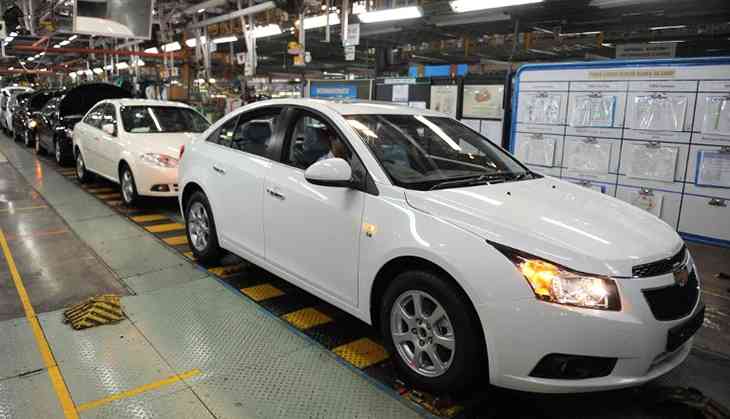 After struggling to find its feet for around two decades in one of the most competitive automobile markets in the world, the US-based General Motors Company has decided to stop selling cars in India from the end of this year.
The company has less than 1% share in the passenger car market in India.
The decision is a part of restructuring undertaken by the company headquarters in Detroit, to focus only on profit making markets.
Its India operations, the company management thought, were not in good shape, and did not hold much promise.
GM sold its cars in India under the Chevrolet brand.
Mounting losses
GM had entered the Indian market in 1995, and could never break into the top league of Indian car manufacturers, which is dominated by Maruti Suzuki, Hyundai, Toyota, and Ford.
GM's Indian operations incurred loses of Rs 1,100 crore during 2015-16, while revenues grew around Rs 2,500 crore at a net worth of Rs 249 crore, as reported by the Hindu Business Line.
In 2015, General Motors put on hold its $1 billion investment plan in India, stalling the company's global emerging market platform in the world's sixth largest car market.
The company's sales in India were down nearly 21% in 2016-17 to 25,823 units.
A silver lining
Even though GM is shutting down its India operations, the company plans to use its India manufacturing plant to continue its exports to Asian and South American markets.
Kaher Kazem, GM India president and managing director, said: "GM India's export business has tripled over the past year. Exports will remain our focus going forward, as we continue to leverage India's strong supply base. We recently launched the new Chevrolet Beat hatchback for export to Mexico and Central and South American markets, and will launch the Chevrolet Beat sedan later this year for those markets."
GM's exports from India doubled to 70,969 vehicles in the fiscal year 2016-17. Its Talegaon plant has a capacity of 130,000 vehicles a year.
Job cuts and blow to Make in India
Even though GM will continue to use its India plant for exporting cars to other markets, the decision to shut down its India operations is likely to result in significant layoffs at its front end as well as back-end operations, as the company stops functioning in the domestic market.
The auto sector in India accounts for over 19 million direct or indirect jobs, and contributes 7-8% to India's gross domestic product.
The move is sure to be a blow to the Narendra Modi government's 'Make in India' initiative, aimed at making the country a global manufacturing powerhouse.
The information technology sector is already witnessing massive job cuts, putting pressure on the government.
Last year, Ford Motor had shelved its plans to produce a new compact car family, designed mainly for emerging markets from India, as per a Reuters report.