Crude oil price set to rise? OPEC winning war as US firms go bankrupt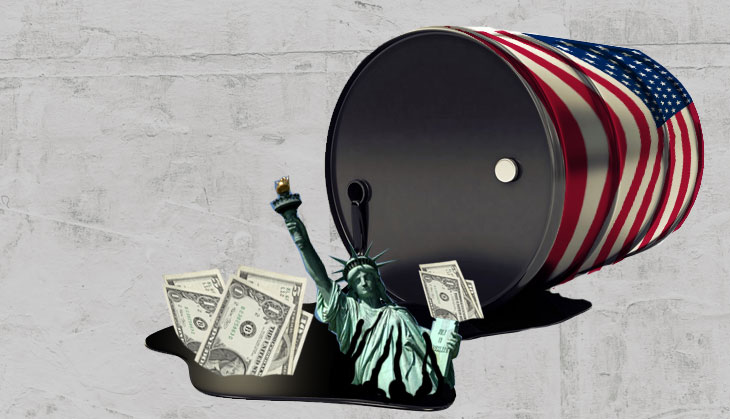 Turning point
US companies had used the shale oil process to make it the world\'s largest oil and natural gas producer in the world
Then, in mid-2014, OPEC decided to change its strategy to put US companies out of business
Strategy works
OPEC stepped up production, in order to bring the price of crude oil down as much as possible
The shale process is expensive, and companies needed the price to be above $60 per barrel
Fifty-nine US companies have now gone bankrupt
More in the story
Will the price of crude oil rise again?
The United States of America's shale oil revolution had turned out to be a game changer for the world's oil supply. In 2014, the International Energy Agency reported that the US had become the largest oil and natural gas producer in the world, surpassing both Russia and Saudi Arabia.
Then, in mid-2014, a war broke out between the Organisation of Petroleum Exporting Countries (OPEC) and the rest of the world, led by American oil companies.
Read: Before celebrating oil @ $30 don't forget to check the ramifications
OPEC's strategy was simple: to bring the price of oil to its lowest-possible level by stepping up production. It wanted to get the price down to a level where its rivals would go bankrupt.
That strategy seems to have borne fruit. According to a Reuters report, as many 59 oil and gas companies in the US are now bankrupt, after Midstates Petroleum and Ultra Petroleum filed for creditor protection this week.
High cost of production
The problem with the US shale revolution is its cost of production. In 2014, it was believed that shale oil, which used the fracking technology to produce oil, was viable at a price above $60 per barrel of crude.
However, the war between the US and OPEC pushed the price of crude to below $28 per barrel in January 2016, the lowest since 2003.
When oil prices were comfortably in the $90-$100 range and shale oil boomed, US oil and gas companies took on billions of dollars of debt to fund the expensive drilling.
According to a Bloomberg report in September 2015, the total debt for more than 30 oil and gas producers in the US had risen to a level that represented 40% of their enterprise value. (Enterprise value is calculated as the market capitalisation plus debt, minority interest and preferred shares, minus total cash and cash equivalents.)
Now, unable to service their debt and bond maturities, a lot of companies have been trying to restructure their debt by rolling over their repayment dates.
While many companies have bought some time, a lot of them have failed to convince their lenders. For example, according to a Reuters report, Chesapeake Energy Corp was unable to persuade a number of holders of its near-term debt to swap it for a later maturity.
Lower oil prices have forced US shale companies to not undertake new drilling in 2015. According to Baker Hughes, the US rig count numbers in November came down month-by-month from 791 to 760 rigs.
Will crude prices jump?
All estimates about the price of oil in the last one-and-a-half years have been wrong. However, looking at the number of companies filing for bankruptcy in the US, it looks like there will be a rebound in prices very soon.
Also read- Bad news for OPEC: Global oil market will be oversupplied through 2016, says IEA
According to Deepak Mahurkar, oil and gas leader at PwC India: "The role of data and information-sharing has been significant. As compared to decades back, stakeholders have much better view of the market; seldom would we see knee jerk reactions. There's good probability that if high-cost production facilities have to give up, supplies will come under strain. Industry wouldn't be surprised if crude oil price touches $60 in the next 18 months."
Will it be the end of the war?
Not necessarily. In 2014, it was believed that shale oil and gas was viable only at a price when crude oil sells at $50 per barrel. But over the last one-and-a-half years, a lot of companies have managed to reduce their cost of production by drilling multiple wells from one area.
But with the number of bankruptcies rising, there is one question that nobody seems to be able to answer: what will be the long-term price range for oil?
Because of this, India as well as the world is keeping its fingers crossed.
Edited by Shreyas Sharma
More in Catch:
AgustaWestland: how Singhvi tore apart NDA's case against Congress
Move over pessimism. We just got a beautiful lesson in hope courtesy Leicester City
Uttarakhand: Centre may agree to a floor test. Will 9 Cong rebels vote?
Punjab gangster gunned down in HP. Rivals fight for credit on Facebook