Consumer inflation declines to 2.18% due to crash in vegetables and pulse prices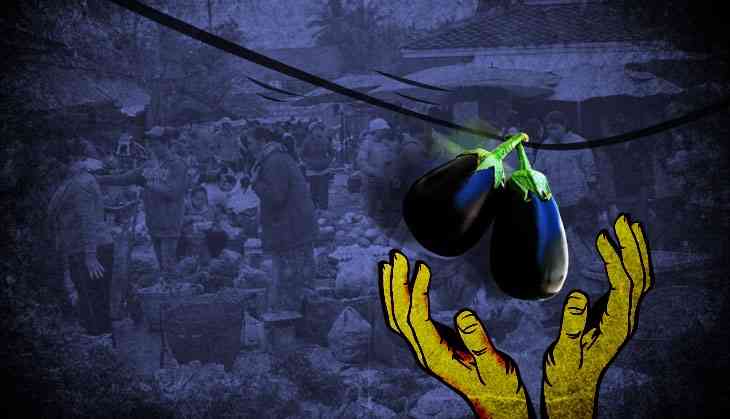 In a clear display of farmer distress in the country, food prices continued their downward journey in May, pushing down overall consumer price inflation to 2.18% as against 2.99% in April.
The price of pulses fell by 28.06% followed by 14.66% decline in the price of vegetables.
Price of cereals rose by 6.08%, whereas milk, meat and fruit prices rose by 4.98%, 1.41 and 1.35% respectively.
Since CPI inflation is a measure of price movements in the retail markets, it is expected that the prices in the wholesale markets would be much lower.
While the prices of pulses have been on a decline due to increased production in the country as compared to last financial year, the prices of vegetables have not recovered since demonetisation in November 2016.
A good monsoon is expected to result in a further crash in food prices in the country. The India Meteorological Department has projected an average normal rainfall of 98%, with forecasts of rainfall in drought prone areas.
Demand for a rate cut to increase
The RBI last week kept its benchmark interest rates unchanged at 6.25%, lowering its inflation forecast for the current fiscal. The Monetary policy committee of the RBI projected headline inflation at 2-3.5% in the first half of the year and 3.5-4.5% in the second half of the year.
While the finance ministry was not happy with the status quo on interest rates by the RBI, it is expected that the central bank will go for a rate if the consumer prices remain subdued in the coming months.
Decline in industrial activity
Industrial production growth, as measured under the IIP index slipped to 3.1% in April due to the poor decline in growth of manufacturing, mining and power sectors.
The factory had expanded by 6.5% in April last year.
According to the CSO data, the manufacturing sector, which has a weight of 77.63% in the index, grew at 2.6% in April compared to 5.5% in the corresponding period last year.
Output from the mining sector grew at 4.2% in April 217 as against 6.7% growth in the same period last year. Electricity generation in the country, according to the government data grew by by 5.4% in April, as against a 14.4% growth in April 2016.
Capital goods sector contracted by 1.3% in April against a growth of 8.1% last year.
Consumer durables production fell by 6% in April as against 13.8% in the corresponding period last year.